Features
The
date washing production line
includes
bubble washing machine,Brush Roller Cleaning Machine,Air Cooling Drying Machine,Hand Picking Machine,Sorting Machine,Date Pitting Machine
. We can match the
whole production line according your demands and requirements.

The
date production line
is a high degree of automation,high production efficiency,good effect of cleaning.our company the date washing production line is tare processing enterprise ideal equipment.
The
Fruit Washing Machine
adopt stainless steel SUS304 material (except the motor, bearings and other standard parts),completely in line with food hygiene requirements, The machine is equipped with bubble generator to make the materials tumble, remove pesticide residues on the surface of material. At the same time,you can add the right amount of potions to disinfection of solid color, floats are available to overflow from the overflow tank, sediment from the discharge outlet to achieve the purpose of cleaning.
If you need quotation or other problems, please leave message on our website or email us:wendy@machinehall.com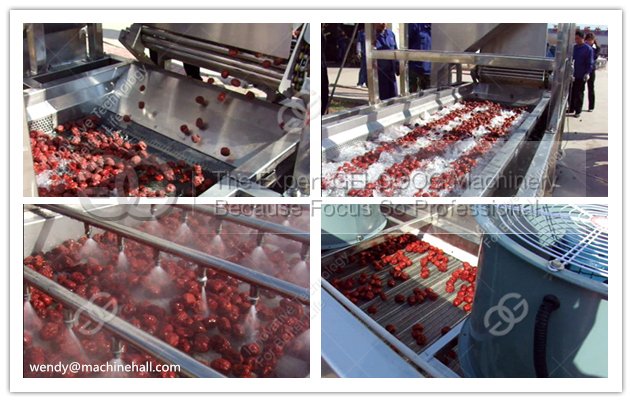 Technical Data
Date wash production line(2000kg/h)
Machine name
power
size
Automatic Vegetable and Fruit Washing Machine
5.1kw/380v/50Hz
5000*1400*1400

Capacity:2000kg/h

Brush Roller Cleaning Machine
2.6kw/380v/50Hz
3500*1100*1100
Capacity:2000kg/h

Air Cooling Drying Machine
3.1kw/380v/50Hz
4000*1100*1000
Capacity:2000kg/h

3.Hand Picking Machine
0.75kw/380v/50Hz
3000*800*900

Sorting Machine
1.5kw/380v/50Hz
2600*1000*1000