Features
Garlic peeling production line can realize automatic production, save labor and time, and greatly improve your garlic production efficiency. One set of garlic peeling machine is equivalent to the 17 working people.
The automatic garlic peeling machine is equipped with garlic peel recovery device to minimize the pollution of garlic peel to the environment. Help you create a good working environment.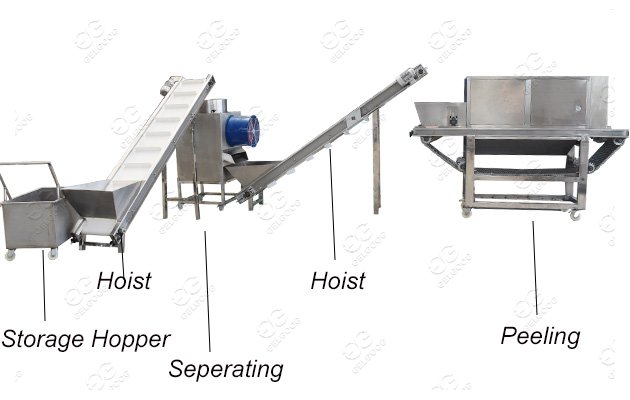 If the customer's garlic is not been broken, we can provide garlic clove breaking function with the peeling machine. This can save your space and maximize resources for customers.
The garlic clove breaking machine simulates manual squeezing to achieve the effect of breaking the cloves. Adjust the gap between the silicone flat plate and the silicone cone to obtain the best splitting effect. The splitting rate of the valve breaking machine can reach more than 95%.
Our garlic separating machine can achieve the function of separating and recycling garlic peel and garlic stem through the built-in fan.
We provide garlic process equipment, such as garlic clove breaking machine, garlic peeling machine, garlic washing machine, air dryer, grading machine and packaging machine.
Customers Who Viewed The Machine Also Viewed