Features
Industrial Garlic Peeling Machine Introduction
The industrial garlic peeling machine uses pneumatic principle to process the broken garlic into garlic without any damage. The garlic cloves can be peeled without soaking in water, which is suitable for any variety of garlic.We are automatic garlic peeling machine manufacturer in China, you can contact freely for machine working principle, design, working video, PDF or the quotation price.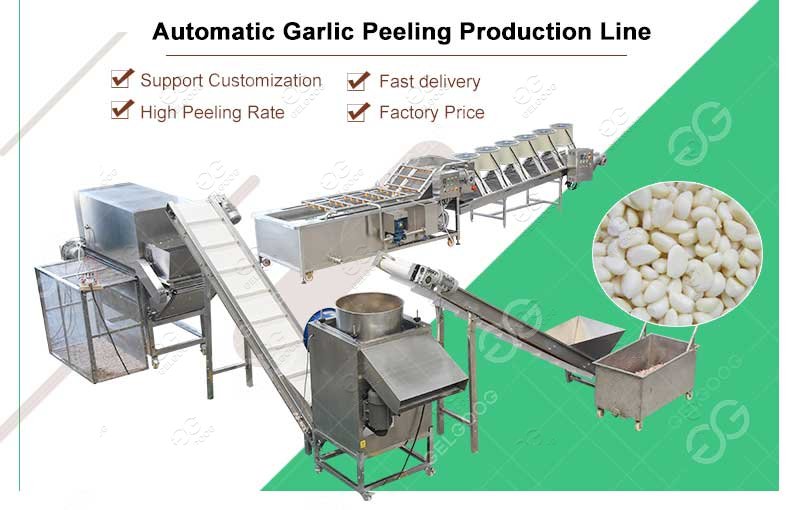 The garlic peeling production line is composed of elevator, garlic clove separating machine, picking line, garlic peeling machine and picking line for the final garlic, and this solution can be equipped with garlic slicing machine, bubble cleaning machine, drying machine, garlic packing machine and other equipment for garlic deep processing. This garlic peeling line is the most advanced and ideal equipment for food factory to process garlic.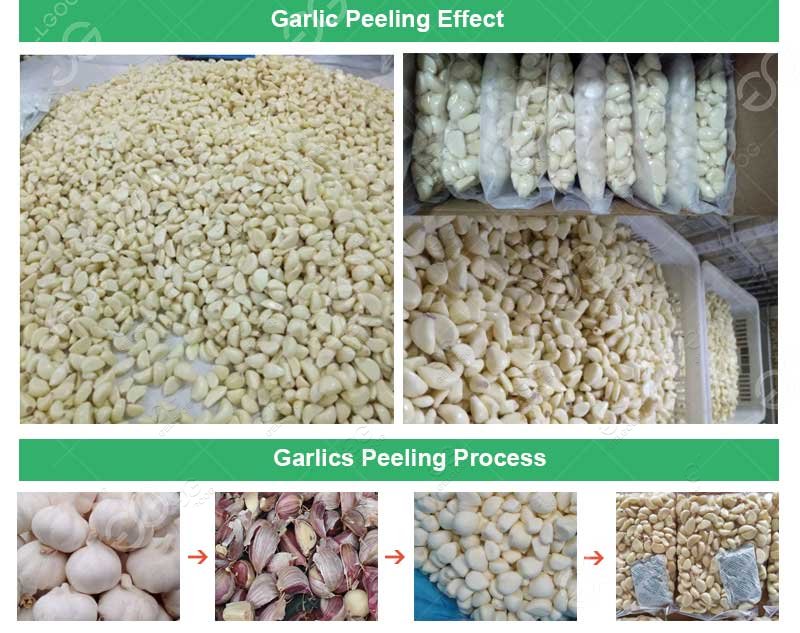 Automatic Garlic Peeling Production Line Features
Equipped with automatic temperature control and automatic feeding device, the garlic kernels and garlic skins are separated automatically, the product meets the hygienic standards.
Without friction during the peeling process, so the integrity, freshness and etc. of the processed product can be ensured.
Meet national hygienic standards, safe and healthy
Fast processing speed, labor saving, and easy operation
High production of garlic clove and no damage to the garlic
It is widely used in vegetable processing factory, canteen and individual businessman for large-scale production.
As the garlic peeling machine manufacturer, we have sold our garlic peeler machine to many countries such as India,USA,South Africa,Korean,Australia,Turkey, UK, MUMBAI,Coimbatore, Bangladesh,Pakistan, Philippines and son on.
The price of garlic peeling machine is reasonable and peeling automation has always been operated, and practical, power saving, small size, high efficiency of garlic peeling machine, easy maintenance and cleaning, and low failure rate. Automatic garlic peeling machine is easy to operate, providing you with more convenience.
Garlic peeling machine video
:
Technical Data
| | |
| --- | --- |
| No. | Equipment Name |
| 1 | Elevator |
| 2 | Garlic Breaking Machine |
| 3 | Garlic Peeling Machine |
| 4 | Garlic Picking Line |
| 5 | Garlic Washing Machine |
| 6 | Garlic Drying Machine |
Customers Who Viewed The Machine Also Viewed