Features
Pomegranate Peeling Machine
mainly used to separate and peel the Pomegranate, Seperate the Pomegranate seeds. Then, the seeds can be used to make the juice, beverage,etc.
Related machine:
Pomegranate Juice Extraction Machine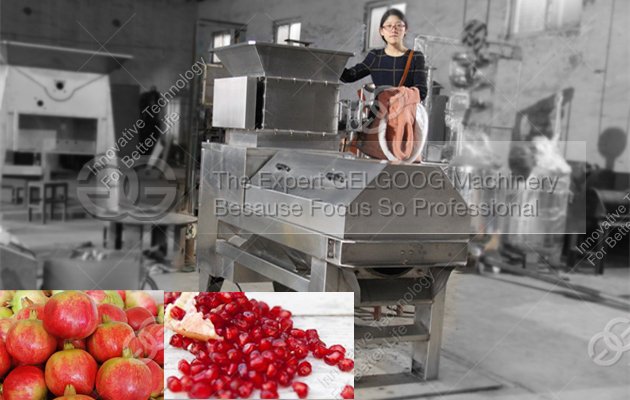 Pomegranate Peeling Machine
working principle is that the pomegranate from the hopper into the crushing plant, after crushing roller relative extrusion and roller blades on the pressure, cut overall pomegranate crowded broken into several small pieces;Crushing plant broken roller for stainless steel, two roller clearance adjustable to 20-30 mm;And then into the crushing plant, on the second broken, broken roller for non-toxic high elastic rubber manufacture, under the pomegranate seed damage is less, the gap between two sticks can be adjusted 10-20 mm;After two stage crushing, has been basically skin seed separation of pomegranate, falling into a no separation of variable frequency speed regulating device (separation axis and sieve combinations),
The whole team reducer and part of the transmission parts are all made of high quality stainless steel materials.
How the
pomegranate peeling machine
work ?
Pomegranate from the feed funnel into the crushing plant crushed pomegranate press,
The gap between the two rolls is 20 mm, and then into the next crushing plant, crushing the pomegranate again,
The gap between the two rolls is 10 mm, and the pomegranate extruded from the two layers has the basic skin seed separation and shedding.
Into the separation device, stirring in the mixing shaft, pomegranate seeds fall from the sieve, pomegranateskin discharged from the tail, the elastic structure of the broken roll, the gap adjustable.
Screw pump pomegranate seeds and juicer.
The manpower has been drastically reduced, with only 2-4 workers. Human fingers can not touch the hands of people, make them hygienic, and prolong their shelf life. Finally, separates all the other fruit materials (peel and all intima) to produce a batch of pure dried fruit. This is especially important for the beverage industry because tannins in the fruit film add bitterness to the juice. Pomegranate juice has a very refreshing taste and a decisive competitive advantage.
The juicer can also be drawn from the industrial juicer, to the attraction of the restaurant and hotel, to the counter juicer.
The frame of the machine is carbon steel and the contact part of the material is stainless steel.If a layer of stainless steel is needed to cover the frame of the machine for aesthetics, there is an extra charge.
Technical Data
Model
GG-1
GG-5
Capacity
1t/h
3-5t/h
Turn sieve diameter
400mm
400mm
Mesh size
12-18mm
(we can customized Mesh size according to clients detail requirement)
12-18mm
(we can customized Mesh size according to clients detail requirement)
Power
2.2kw
4kw
Weight
750kg
950kg
Dimension
1.5*0.6*1.5m
1.8*0.8*2.3m

Customers Who Viewed The Machine Also Viewed