Features
Pomegranate Aril Removal Separator Machine
is the working principle of pomegranate from the funnel into the crushing plant, crushing roller relative extrusion pressure on the whole roller blade, cut into pomegranate crushed into several small pieces; plant crushing roller is made of stainless steel, two roll gap adjustable 20-30 mm; and then into the crushing plant, two times after the break, manufacturing crushing roller with non-toxic high elastic rubber, less damage in pomegranate seeds, two branch spacing can be adjusted
10-20 mm
; after the two stage grinding, basically have the pomegranate peel and seeds separated into no separation frequency control device (separating axis and sieve in combination),
The whole reducer and part of the transmission parts are made of high quality stainless steel.Mesh sizes of
12 to 18 mm
, such as pomegranate varieties, are particularly required to be marked at the time of order.
With the growing demand for healthy food and fresh cut products, more and more people realize that pomegranate has amazing health benefits, making pomegranate fruit (fruit juicy seed) the main candidate to meet these market needs. Now, we have introduced an efficient, hygienic, and cost-effective automation system to quickly extract the commercial quantity of pomegranate ar.While the previous staff can extract 25 kg of pomegranate in 8 hours anthocarp, our machine can handle 1-5 T per hour.Of course ,how many pomegrnate can be processed depends on the fruit size and system model.
The frame of the machine is carbon steel and the contact part of the material is stainless steel.If a layer of stainless steel is needed to cover the frame of the machine for aesthetics, there is an extra charge.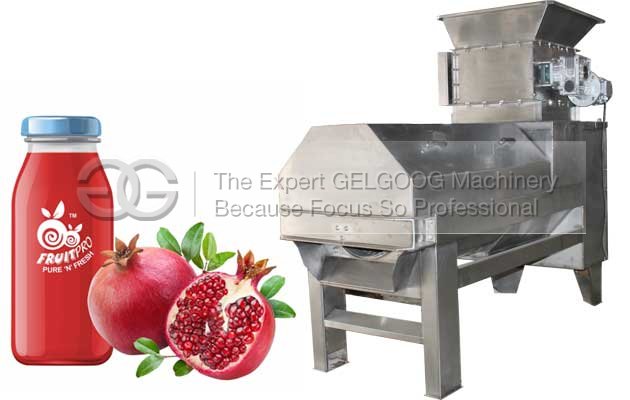 Technical Data
Model
GG-1
GG-5
Capacity
1t/h
3-5t/h
Turn sieve diameter
400mm
400mm
Mesh size
12-18mm
(we can customized Mesh size according to clients detail requirement)
12-18mm
(we can customized Mesh size according to clients detail requirement)
Power
2.2kw
4kw
Weight
750kg
950kg
Dimension
1.5*0.6*1.5m
1.8*0.8*2.3m
Customers Who Viewed The Machine Also Viewed