Features
Maravalli Kilangu chips cutting machine is what we provide as cassava processing machinery manufactuere. Cassava chips is also called maravalli kilangu chips, something like banana chips. Machines used in cassava processing we all have such as cassava washing and peeling machine,cutting machine,frying machine,deoiling machine,packing machine,cassava starch line and others.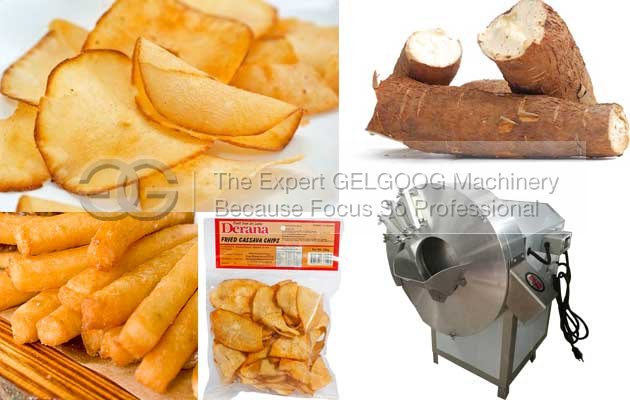 Cassava chips cutting machine
introduction:
Our cassava chips cutting machine can cut cassava, potatoes, sweet potatoes and radish into square strips. The cutted cassava chips is smooth and symmetrical. Our cassava chips cutting machines run fast, and our output is high. Our tapioca chips making machine can handle 300 kilograms per hour.
Cassava chipping machine is easy to operate, easy to clean, save time and labor, and low labor cost. Maravalli Kilangu Chips Cutting Machine is suitable for many fields, such as vegetable processing plants, cassava processing equipment factories, restaurants, schools, canteens and so on.
Design of a cassava chipping machine
:
Cassava chips chipping machine mainly consists of frame, shell, dish, cutter, transmission part and discharge hood. In the work, the cassava is put into the hopper, the material on the rotary dialing tray is guided to spin the material along the shell wall. The cutting knife on the wall of the shell is cut into a strip, and the cut chips come out from the material. The cassava chipping machine adopts feeding trough on rotary dial plate, and slanting distributed small knife and arc inclined edge knife are used for cutting. The utility model has the advantages of good tangent quality, high cutting efficiency, convenient operation and low energy consumption. The contact parts with cassava are made of aluminum alloy and stainless steel, which conform to the hygienic standard of food processing machinery.
Information about cassava tapioca chips:
If cassava starch production enterprises rely solely on fresh cassava as raw material, the production period is short, the utilization rate of the equipment is low, and the fixed cost of the product is high. Guangxi and Southeast Asian countries (such as Vietnam, Thailand, Indonesia, etc.) are rich in cassava dry slices. How to exploit the advantages of regions and raw materials, develop new products and new technologies, and improve the competitiveness and economic benefits of enterprises, should arouse our attention and concern. The production of cassava chips is a major economic development after the potato starch. For investors, the sooner they invest in the market, the higher their profits will be. Do not wait until the market is saturated and then to invest. Please contact us anytime about the business of cassava chips.
Tapioca chips making machine
working video:
Technical Data
| | | |
| --- | --- | --- |
| Model | GG-503 | GG-501 |
| Thickness of strip | 1.5mm /2mm | 1.5-5mm adjustable |
| Length of strip | longest of 20cm | |
| Specification of slice | 1-8mm | 1-8mm |
| Capacity | 150-250kg/h | 500-800kg/h |
| Power | 220V, 1HP | 220V, 1HP |
| Dimension | 540*400*560mm | 650*550*880mm |
Customers Who Viewed The Machine Also Viewed