Features
Coconut Grinding Machine Introduction:
The coconut grinding machine is use centrifugal force of band saw rotor to grind coconut meat into tiny particles. The machine with advanced design , the structure is simple, it is suitable for grind of coconut before its juicing.
The coconut grinding machine is widely used in a variety of berries (like: strawberries, tomatoes, blueberries, mulberry, etc.), pome fruit (like: apple, pear, crab, etc.), vegetables (for example: carrots, radish, melon, squash, potatoes, green peppers , celery, fresh barley grass, medicine celery, etc.) and the orange part peeled (like: seedless tangerines, lemons, seedless orange, etc.), stone fruits enucleated after (like: peach, apricot, plum, etc.), other shelled or peeled class (for example: coconut, garlic, onion, ginger, pineapple, etc.) crushing grinding.
Has the characteristics of high efficiency grinding, stable performance,long service life, low noise, easy operation and repair, can greatly reduce the production cost.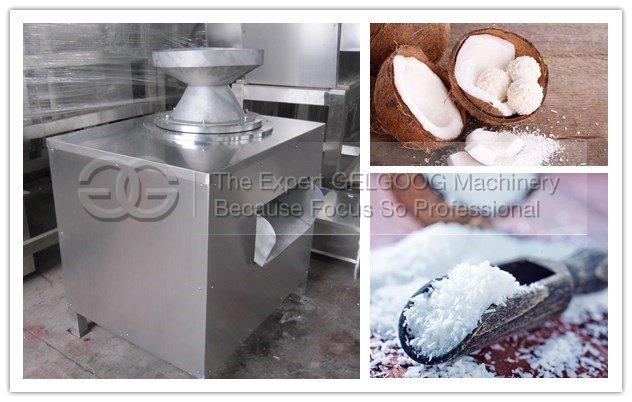 This machine is composed of the feed hopper,sawtooth type conversion, frame, spindle, bearing block, transmission, the hopper and etc. Parts. When the coconut meat from the feed hopper in the machine, through the tangent screw make coconut meat move to sawtooth type conversion, in the rotation of sawtooth, coconut meat will be grinded to uniform filaments , then move out through the hopper , into the next process.
2.Feeding By lifting machine into this machine , the material under the high speed rotation of sawtooth type
conversion will be cutted to make the material evenly. In order to prevent material under the action of
centrifugal force in the rotor and rotor from the sawtooth contact,we especially conversion design into a cone,
and in the stator wall and article guide, make the material adequately and sawtooth contact, and the grinding
good material advance the hopper.
coconut Meat Grinding Machine Advantage
With the force generated by the cone and spirality, the coconut in the grinding chamber was pressed by
the teeth-shaped knives which are evenly inlaid in the cone-shaped rotor. The coconut is shredded while
the high-speed knives keep cutting, beating and grinding.
Small size, big capacity, easy operation
No shaking during working
Low noise, easy washing, endurable.
Final mesh size adjustable.
Technical Data
| | | | |
| --- | --- | --- | --- |
| Model | GG-200 | GG-400 | GG-700 |
| Capacity | 200-400 | 400-600 | 600-800 |
| Power | 2.2-3KW | 5.5-7.5KW | 11-15KW |
| rotate speed | 1450r/min | 1450r/min | 1450r/min |
| Blade pieces | 12pieces | 24pieces | 48pieces |
| Dimension | 700*500*1200 mm | 950*720*1500mm | 1350*1050*1800 mm |
FAQ
Q:What's the Packing and Delivery ?
A: We adopt the export standard wooden packing . And we can deliever through sea , DHL , Train transportation
Q. when the product will be deliver ,plz?
A.Generally ,we will delivery commodity within 7 days,except custom-made.
Q:What if customers know little about import processing?
A: Our factory has rich experience in export.We will assist customers with needs step by step, from placing orders to receiving poutry feed manufacturing equipment.
Q: What's the material of the machine?
It is made of stainless steel
Q: Do you supply samples ?
A: We are factory, and making machines costs, Large order , Large discount , we can not offer sample machines .
Customers Who Viewed The Machine Also Viewed