Features
Dicing machine Application:
Our dicing machine is suitable for a variety of materials: onions, potatoes, tomatoes, cheese, frozen meat, etc.
The size of the vegetable dicer can be adjusted according to the needs of customers: the size range of the dices is: 3, 4, 5, 6, 8, 10, 12, 15mm can be cut
This vegetable dicing machines is suitable for processing dehydrated vegetables, quick-frozen vegetable processing plants and food pickles industry. This dicing machine can cut vegetables into cubes at once. The shape is regular, the cut surface is smooth, and the forming rate is high.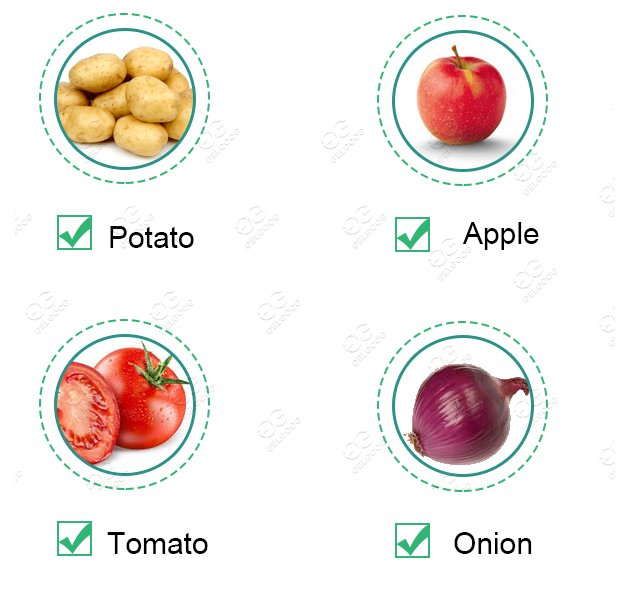 Commercial vegetable dicer performance:
One feeding, direct output, equivalent to 25 people.
The dicing machine has advanced design, convenient operation, low energy consumption and high effect. It adopts aluminum-magnesium alloy and stainless steel materials, anti-corrosion, beautiful appearance, and conforms to hygiene standards
For this upgraded dicing machine, we have improved the feed inlet. Increase the feed inlet, the operation is more convenient, and it is convenient to equip the elevator assembly line operation. Suitable for large batch cutting processing.
The cutted vegetable are same size, are not easy to break, and have a high yield.
Multi-size cutter blade are available for customers to choose.
The dicing machine is made of stainless steel and the quality is guaranteed.
Equipped with movable casters and micro-movement safety devices, it is safer and more convenient to use.

Tomato Dicer Machine Video Show:

Technical Data
| | | | | | |
| --- | --- | --- | --- | --- | --- |
| Model | Power(KW) | Machine Size(MM) | Weight(KG) | Capacity(KG/H) | Cube Size(mm) |
| GGCD100 | 0.75 | 710*660*1085 | 100 | 600 | 3-25mm |
| GGCD800 | 0.75 | 800*700*1260 | 100 | 800 | 3-25mm |
| GGCD1500 | 2.25 | 1740*1270*1460 | 280 | 2000 | 5-20mm |
Customers Who Viewed The Machine Also Viewed