Features
Vegetables are usually stored using a variety of freezing techniques.Frozen foods have excellent quality and nutritional value. In fact, some frozen vegetables, such as green peas and sweet corn, may outperform fresh produce in flavor. The high quality of frozen food is mainly due to the development of a technology called "IQF Food".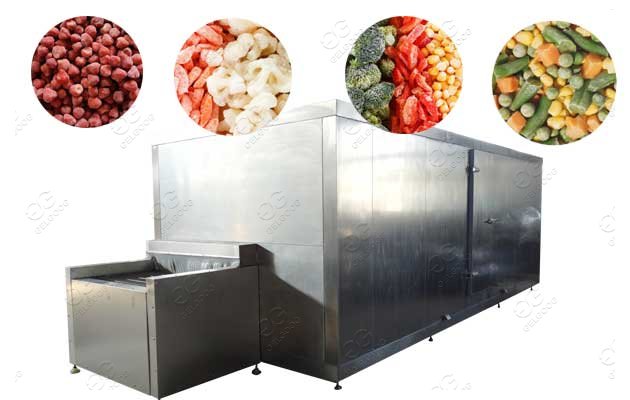 What does IQF Frozen mean?
IQF is the acronym for Individual Quick Freezing. IQF refers to the individual quick freezing of each piece of food.
The IQF quick-freezing machine adopts the single-unit rapid freezing process, the smallest individual is independent of each other, and it also maintains the discrete individual process during the freezing and packaging.
When frozen, it does not stick to other foods that are frozen at the same time and is usually not prepackaged. For example, when shrimps are frozen, the scattered shrimps are input into the quick-freezing tunnel of a single freezer. The shrimps can be frozen and frozen without external packaging, and each shrimp can be non-adhesive to other shrimps after freezing.
What did the quick freeze machine do?
This series of quick freezing machine forms a strong cold wind vapor flow with a large flow rate vertically, and adopts a unique air guiding device to reasonably distribute the air and the airflow is evenly distributed. Make the material fully exposed to strong cold wind. The lower part of the mesh belt is provided with an independent pulse vibration device, so that the gap of the mesh belt is not blocked by frost, which reduces the wind resistance and the air flow is smooth. And make the material not agglomerate, do not stick to the net and form a monomer. The full-fluidized monomer quick-freezing process is realized, and the quick-freezing speed is fast, which greatly improves the freezing output.
IQF tunnel freezer manufacturer provide freeze machine advantages:
1 High-efficiency fresh-keeping: It is a new type of single-unit rapid freezing device with energy-saving, high-efficiency and maximum fresh-keeping of food.
2 The quality of frozen products is excellent: strong air convection is adopted, and the freezing speed is fast, thereby ensuring the quality of frozen products.
3 High heat transfer efficiency: It adopts a large set of all-aluminum evaporator, which has a high heat transfer coefficient. It is also equipped with a specially developed low temperature resistant cold storage fan, which has high wind pressure and moderate and reasonable airflow.
4 Low energy consumption and low noise: The high-efficiency heat transfer effect of the dedicated fan for energy-saving cold storage and the all-aluminum evaporator saves energy consumption.
5 Strong anti-corrosion performance: Food grade 304 stainless steel is adopted, which has strong anti-corrosion performance.
6 Fine workmanship: The factory introduces advanced machining centers, and the parts are processed with high precision. Made of food grade 304 stainless steel. The welded parts are safe and clean. long lasting.
Quick Freeszing Machine Factory Video Show:
Technical Data
| | |
| --- | --- |
| Name | Individual Quick Freezing Machine |
| Model | GG-100 |
| Machine Raw Material | 304 Stainless Steel |
| Voltage | 380v/50H |
| power | 15KW |
| Capacity | 100kg/h |
| Scope of application | beans,corn, broccoli, carrots, strawberries, beef, split meat, shrimp, fish fillets, meatballs and so on. |
Customers Who Viewed The Machine Also Viewed