Features
Fruit dehydration machine is mainly for dried fruits such as dried Cranberry ,blueberries, cherries and other high-sugar fruits.
Belt-type cranberry dehydration machine with low-temperature drying can keep the dried fruit transparent and bright in color.
Drying fruit to a moisture content below 20% is the good effect. The fruit shape is complete. The color is transparent.The meat is rich.The texture is soft,sweet and sour,delicious, original fruit flavor, high nutritional value.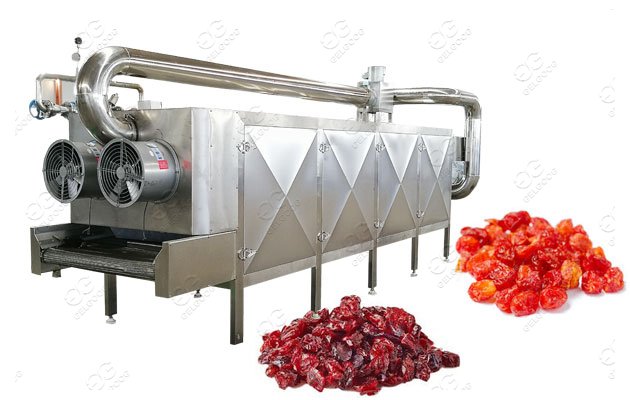 The cherry drying machine uses a multi-layer chain plate conveyor belt. Because the dried cherry has a small volume.The chain plate punching conveyor belt has good air permeability and high thermal conductivity. Because the sugar content of the candied fruit is relatively high. During the drying process, sugar will flow out. The use of chain conveyors is easy to clean and maintain. The multi-layer can make the materials turn and prevent the materials from sticking to the conveyor belt.
The main areas of dried cranberry production are mainly in the United States, Canada, Mexico, Poland, Germany, the United Kingdom, Australia, the Netherlands, France, Italy, Spain, Colombia, New Zealand and so on.
The most common cranberry products in major supermarkets are dried cranberry, cranberry sauce, cranberry juice and so on. We also have washing machine, pitting machine, sorting machine, sauce machine and others.
Drying the cranberry basically keeps 90% of the nutrients of the cranberry, sour and sweet, especially suitable for the taste of modern people. The traditional natural drying has been more and more unsuitable for the current processing and drying methods due to the influence of the climate. The blueberry drying machine developed by our company adopts PLC self-controlled temperature and humidity technology, which has high drying intelligence.High efficiency and energy saving.Two-way circulation of hot air.High utilization rate, stable and durable operation after repeated testing. Once launched, it will Loved and praised by users.
Customers Who Viewed The Machine Also Viewed