Features
Ficus carica is also known as the common fig. Depending on the customer's needs, there are whole drying and dicing drying. Diced fig can shorten the drying time. The whole fig drying time is longer, but the appearance is better. And the dried whole figs are sold at a higher price.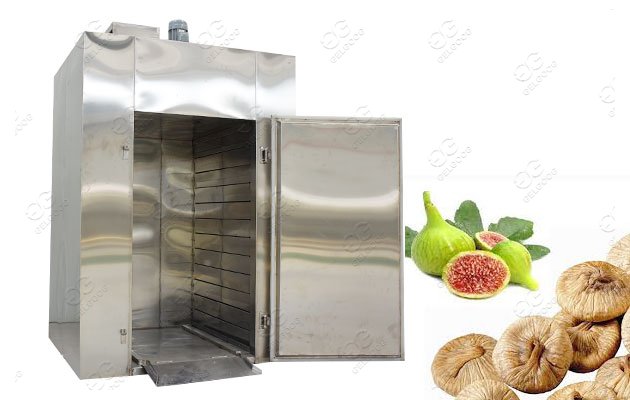 Dried fig drying machine introduction:
The hot air circulation fruit drying oven is equipped with a low noise and high temperature resistant axial flow fan and an automatic temperature control system. The entire circulation system is completely closed, which improves the thermal efficiency of the oven from 3-7% in the traditional oven to the current 35-45%. Thermal efficiency can reach 50%. The use of hot air circulation oven saves a lot of energy and improves the economic efficiency of the enterprise.
Fig Dehydration Machine Application:
Suitable for drying processing of figs, cherries, apple slices, raisins, radish slices and other products. It can adjust and control the temperature according to the different needs of processed products, and is the preferred equipment for ventilation and drying.
Dried fruit machine working principle:
Use normal temperature air through a heat exchanger to exchange it into high-temperature dry hot air. Through the action of the blower, let the hot air exchange heat with the material to achieve the drying effect.
Dried Figs Processing Stages:
1. Raw material fig selection: Choose ripe and suitable figs (not overripe) and choose big and full figs.
2. Figs can be dried whole or cut and dried; the cutted fig drying time will be shorter. Fig can be cut in half, or strips for drying, depending on the customer's craftsmanship.
3. Place the cut and peeled figs evenly in the material tray, taking care not to stack them together, so as to avoid uneven heat of the materials when they are stacked.
4. Set the temperature at 60-65 ℃, and the drying time is 2-4 hours. The high temperature in the first stage is required to quickly drain the internal moisture of the fig.
5. In the second stage, the temperature is set to 50-55 ° C, and the drying time is about 16 hours.
6. In the latter stage, set the temperature to 55 ° C and dry for 1-2 hours. The total drying time of a batch of figs takes about 20 hours. After the material is completely cooled, it can be packed.
Technical Data
| | |
| --- | --- |
| Model | GGHX2-2 |
| Number of drying cars | 2 |
| Number of Baking tray | 48 |
| Door | 2 |
| Circulating fan(Set) | 1(0.75KW) |
| Draining fan (set) | 1(0.55KW) |
| Heating power (KW) | 18 |
| Pre-package size (MM) | 2.5x1.2x2.35 |
| Weight before packaging (KG) | 760 |
| Packaged size (MM) | 2.63x1.36x2.26 |
| Weight after packaging (KG) | 830 |
| Capacity(KG) | 144 |
Customers Who Viewed The Machine Also Viewed