Features
Quick-frozen food is very common and important in our lives, extending the shelf life of food. It allows us to eat delicious food when we stay at home.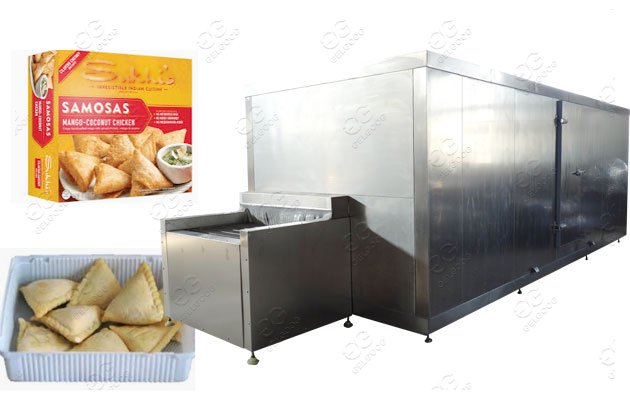 The processing technology of frozen samosa is divided into the following steps:
The first step is the production of mincemeat. After pre-treating fresh meat and vegetables, add spices and condiments to mix and make.
Mixing Dough:
Mix refined flour or special dumpling powder with water and salt and flour modifier to make dough, and then make dough by dough mixer machine.
Forming Samosa
Use samosa making machine can make good samosa and dumplings automatic. Save labor and time. Great machine for the samosa business.
Quick freezing samosa.
Place the wrapped samosa on the stainless steel answer plate, put them on the chain of the quick-freezing machine. The quick-freezing temperature needs to be -34 degrees Celsius, the quick-freezing time is 30 minutes, and the center temperature is below 10 degrees Celsius. Make the samosa quickly pass through the ice crystal generation area to ensure the original taste of samosa.
Our quick-freezing equipment can quickly take away the heat of the food, freeze fast, quickly lock the moisture of the frozen product, reduce the loss of moisture, and ensure the freshness and appearance of the food.
With the development of economy and the improvement of people's living standards, quick-freezing machines will be more widely used for quick-freezing and preservation of food industry and marine fisheries.
Packing samosa:
Quick-frozen samosa should be packaged in accordance with the requirements in time, so as not to raise the right temperature of the product, and the surface becomes soft, which affects the quality of the product.
Technical Data
| | |
| --- | --- |
| Name | Individual Quick Freezing Machine |
| Model | GG-100 |
| Machine Raw Material | 304 Stainless Steel |
| Voltage | 380v/50H |
| power | 15KW |
| Capacity | 100kg/h |
| Scope of application | beans,corn, broccoli, carrots, strawberries, beef, split meat, shrimp, fish fillets, meatballs and so on. |
Customers Who Viewed The Machine Also Viewed