Features
The
automatic ginger powder production line
is used to make ginger powder or turmeric powder. Process fresh ginger cleaning to flour milling through different processing techniques. The ginger powder seasoning produced can meet the cooking needs of different families, restaurants, and food processing plants. Popular in the market.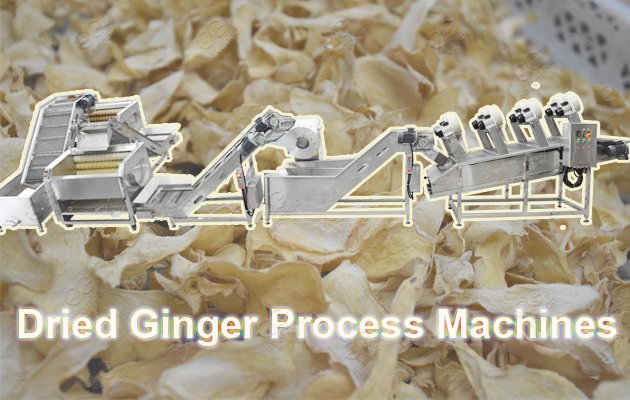 The ginger powder production line mainly includes: brush cleaning machine, hoist, slicer, air dryer, drying equipment, ginger powder mill.
The specific ginger powder production line is made according to the output needs of customers.
Brush type ginger cleaning machine
: used to clean the mud, dust and other impurities attached to the surface of the ginger root, and can have the effect of peeling. The special design of spiral feeding structure is adopted to realize fully automatic work.
Ginger slicer
: The thickness of ginger slices is uniform and the slice thickness can be adjusted as required.
Ginger Air dryer machine
: Effectively remove the moisture on the surface of ginger slices after rinsing, greatly shorten the drying cycle, suitable for assembly line operation, and improve the degree of enterprise production automation.
Ginger dehydrator machine
: adopts multi-layer mobile stainless steel mesh belt, automatic feeding and discharging, saving a lot of labor cost.
Ginger powder grinding machine: Crush the dried ginger slices, the fineness can be from 10 to 200 mesh.
This is our ginger powder process plant video show, you can see it if you need.
Technical Data
Name
Parameter
1,Lifting machine
Power:0.75 kw
Voltage:380v/50hz/Three phase
Size:1800*1000*1800 mm
Conveying speed is adjustable.
Note:You can add citric acid into the water tank to avoid the brown color.
2,Ginger washing peeling machine

Power:3kw
Voltage:380V/50HZ/Three phase
Size:2800*850*800mm
Capacity:1-1.2ton/h
Roller length:2000 mm
3.Picking line
Power:0.75kw
Meter:3m
Voltage:380v,50hz, three phases
Dimension:3000*600*900mm
4,Ginger Slicing Machine
Power:0.75 kw
Voltage:380v/50hz/Three phase
Capacity:300kg/h
Size:640*500*850mm
Weight:75kg
5,Water removing machine
Introduction:
This machine uses a flip conveyor belt, so that the material double-sided moisture is evenly blown off, can be used for a variety of fruits and vegetables after cleaning air-drying
Dimension:4100*1200*1600mm
Weight:600kg
Power:9.1kw
With mesh can protect material go out when the wind is strong
6,Ginger slicer drying oven
Drying cart:8
Trays:192 pieces
Heating power:60kw
Size:4930×2260×2260mm
Weight:2000kg
Capacity:576kg per time
Circulating fan: 4 pieces


7.Crushing machine
Spindle Speed 720r/min
Feed Size ≤100mm
Output Size 4-6mm
Power 4kw-4p
Dimensions 500×600×1200mm
8,Lifting machine
Power:0.75 kw
Voltage:380v/50hz/Three phase
Size:1800*1000*1500 mm
Conveying speed is adjustable.
9,Ginger Powder Grinding Machine
Power:5.5kw
Voltage:380V/50HZ/Three phase
Size:750*600*1370mm
Weight:250kg
Fineness:20-120mesh
10,Powder lifting machine
Voltage:380V/50HZ
Volume:118 L
Capacity:3 m³/h
Hopper size:880*850*810mm
Feeding height:
1600mm (can
be customized)
Overall weight:80kg
Note:
With cover to avoid the ginger
powder fly into the air.
11,Powder filling machine
Power:1.5kw
Voltage:220V/50HZ/Single phase
Weighing range :1-5000g
Filling accuracy:1%
(different materials vary)
Filling speed:30-45 bags / min
Machine size:
690*1060*2000mm
Customers Who Viewed The Machine Also Viewed