Features
Generally, the requirements of medicinal materials are very high. Traditional methods of drying herbal medicines can easily lead to the contamination of medicinal materials, which will affect the medicinal value of medicinal materials to a certain extent.
Our Gelgoog herb drying machine can dry fresh herbs very well, and can be carried out at low and medium temperatures, so that it will not affect the medicinal value of the medicinal materials. It retains the smell of herbs and tastes better.
The Gelgoog hydration machine is multi-functional and can be used for a variety of herbal medicines: such as burdock tea, basil, oregano, tarragon, lemon balm and mint.
These herbs have a high moisture content, and if they cannot be dried quickly by a dehydrator or other methods, they usually become moldy. So low temperature drying is the best choice for drying medicinal materials. It has high medical value. Our cannabis dryers are most popular in Russia, Canada, Bulgaria, the United States and other countries.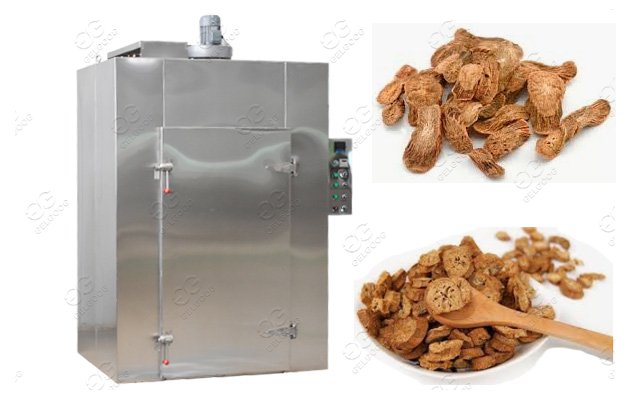 How to dry herbs in a dehydrator?
1. Cleaning herbs
2. Place the herbal block on the tray and put it in the dryer.
3. Set the temperature to 50°C and the humidity to 10% for 90 minutes. According to customer requirements, the water content was reduced from 25% to 10%.
Different herb thickness will have different dehydration time, the thinner, the shorter the dehydration time. The temperature and time of drying can be adjusted according to the needs of customers. The operation is very convenient.
Technical Data
| | |
| --- | --- |
| Model | GGHX2-2 |
| Number of drying cars | 2 |
| Number of Baking tray | 48 |
| Door | 2 |
| Circulating fan(Set) | 1(0.75KW) |
| Draining fan (set) | 1(0.55KW) |
| Heating power (KW) | 18 |
| Pre-package size (MM) | 2.5x1.2x2.35 |
| Weight before packaging (KG) | 760 |
| Packaged size (MM) | 2.63x1.36x2.26 |
| Weight after packaging (KG) | 830 |
| Capacity(KG) | 144 |
Customers Who Viewed The Machine Also Viewed