Features
Chicken Feet Frying Line:
(1)Chicken Feet Lifting machine: The feeding conveyor is an essential product in the front section of the fryer. The hoist can convey the material to the chicken nugget fryer. In this transportation process, the materials are evenly placed and quantitatively transported to isolate people from contacting the hot oil in the fryer, so as to avoid hidden dangers caused by hot oil to people.
(2) Continuously chicken feet frying machine: The fryer provides two heating methods, gas heating and electric heating. The fryer is designed with double-layer mesh belt conveying, the frying space is 80mm, and the bottom scraping design is used to fully remove the oil residue that falls during the frying process. The chicken frying machine is designed with a circulating oil filter, which can continuously realize frying and filtering to ensure that the carbonization and blackening of food residues will not occur during the frying process. At the same time, it is designed with a flushing oil circulation system, which can realize material reversal and non-sticking. The oil storage system is convenient for cleaning equipment and chemical oil to reach the equipment.
(3) Fried chicken de-oiling machine: the oil drain conveyor can reach the surface of the fried chicken feet after being fried by the strong current air degreasing device when the fried chicken feet transported from the fryer pass the oil drain conveyor Oil removal, at the same time can reduce the oil content of the article and cooling effect.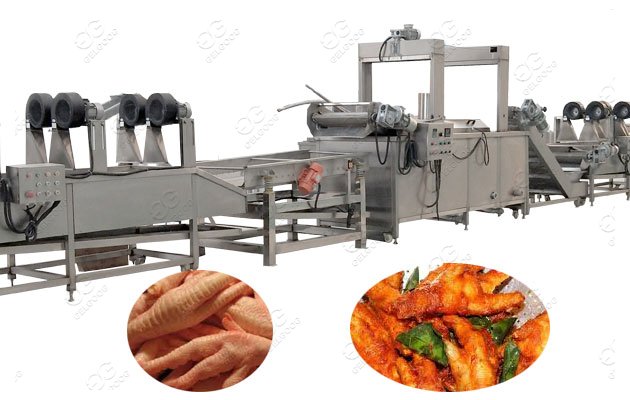 Technical Data
Model
Heating type
Power
Size(MM)
Weight
(KG)
Capacity
(KG)
Oil discharge
(L)
GGZLD3500
Electricity
delivery:1.5KW
Elevator: 0.75KW
Heating:100KW
3700*1400*2300
800
200
800L
GGZLD4000
Electricity
Delivery:1.5KW
Elevator:0.75KW
Heating:110KW
4200*1400*2300
1000
300
950L
GGZLD5000
Electricity
delivery:1.5KW
Elevator: 1.5KW
Heating:120KW
5200*1400*2300
1200
500
1230L
GGZLD6000
Electricity
delivery:1.5KW
Elevator: 1.5KW
Heating:180KW
6200*1400*2300
1400
800
1520L
GGZLD7000
Electricity
delivery:2.2KW
Elevator: 1.5KW
Heating:210KW
7200*1400*2300
1600
900
1810L

Customers Who Viewed The Machine Also Viewed