Features
Our
garlic chips frying machine
can realize the function of fully automatic and continuous work. The whole garlic chips frying machine consists of a mesh belt conveying system, a mesh belt lifting system, an oil temperature control system, and a hot oil circulation system.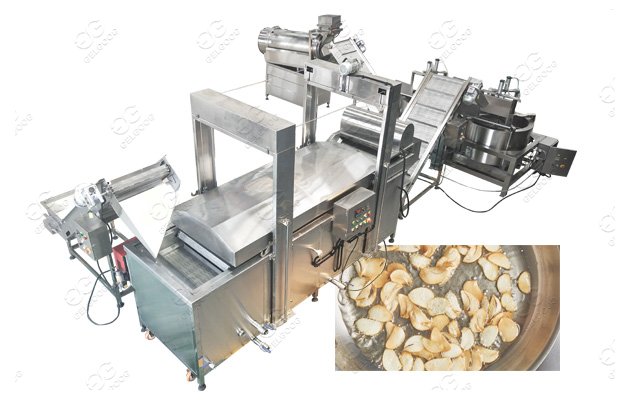 Regarding the heating method: Our continuous fryer machine can have a variety of heating methods for customers to choose: electric heating, gas heating, coal heating and other methods.

Frying time and speed: The garlic chips are conveyed by a mesh belt. The mesh belt can adjust the speed at will according to customer needs, so as to control the frying time. Advanced mechanical transmission and frequency conversion speed regulation system make this equipment suitable for frying all kinds of food.

The fried garlic chips have uniform color: the upper and lower double-layer mesh belts are designed to maintain the uniform fried color of the product when the product floats during the frying process, and will not produce uneven fried garlic slices.

Autonomous control of garlic frying temperature: automatic temperature control: the entire oil temperature is automatically controlled, the temperature can be set at will from 0-230 degrees, suitable for frying foods with different technological requirements.

Application range of garlic flake frying: high efficiency, high output, high quality of fried products, it is ideal equipment for medium and large fried food processing enterprises.
Technical Data
Model
Heating type
Power
Size(MM)
Weight
(KG)
Capacity
(KG)
Oil discharge
(L)
GGZLD3500
Electricity
delivery:1.5KW
Elevator: 0.75KW
Heating:100KW
3700*1400*2300
800
200
800L
GGZLD4000
Electricity
Delivery:1.5KW
Elevator:0.75KW
Heating:110KW
4200*1400*2300
1000
300
950L
GGZLD5000
Electricity
delivery:1.5KW
Elevator: 1.5KW
Heating:120KW
5200*1400*2300
1200
500
1230L
GGZLD6000
Electricity
delivery:1.5KW
Elevator: 1.5KW
Heating:180KW
6200*1400*2300
1400
800
1520L
GGZLD7000
Electricity
delivery:2.2KW
Elevator: 1.5KW
Heating:210KW
7200*1400*2300
1600
900
1810L

Customers Who Viewed The Machine Also Viewed