Features
Application :
1 Food Industry:chocolate, soy sauce, jam, peanut butter, butter and beverage
2Chemical Industry: :paints, lubricating oil, spices, dyes, emulsified asphalt, emulsified rubber,
catalyst, paint coating
3Pharmaceutical Industry:cod liver oil, athlete cream, bee honey, pollen etc.
4Daily Chemical Industry:shoe polish, toothpaste, cosmetics, balsam, soap, and detergent, etc
5Other Industry building industry:paper industry, plastic industry, battery industry, etc.

Introduction
1.Colloid mill products is for fine processing of mechanical fluid materials.
2.It combines homogeneous machine, ball mill, three rollers machine, shearing machine, mixer, etc a variety of mechanical performance.
3.With superior superfine grinding, dispersion emulsion, homogeneous, mixing effect and so on.
4.Material after processing, particle size of 2 ~ 50 microns, homogeneous degree of more than 90%, is the ideal equipment of fine powder processing.

Advantages:
1.Colloid mill is the basic working principle of shearing, grinding and high-speed mixing effect.
2.Two grinding on the tooth surface of relative movement, the base of a high-speed rotation, another still, make the material through the tooth face between great shearing force and friction force.
3.At the same time, in the high frequency vibration, high speed spiral complex force under the action of making materials such as effective dispersion, floating, crushing, homogeneous.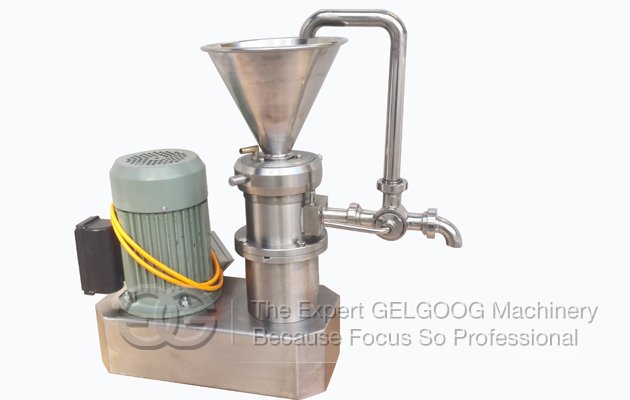 Technical Data
Model
GGB-50
GGB-80
GGB-110
GGB-130
GGB-180
GGB-240
GGB-300
Output size
(mesh)
50-100
50-100
100-200
100-200
100-200
100-200
60-200
Capacity(kg/h)
7-8
70-100
300
400-600
800-1000
1500-2000
3000-4000
Power
(KW)
1.1(380V)
1.5(220V)
4(380V/220V)
7.5
15
18.5
45
75
Weight
(kg)
50
150
175
285
340
1300
1600
FAQ
Q. when the product will be deliver ,plz?
A.Generally ,we will delivery commodity within 7 days,except custom-made.
Q:What if customers know little about import processing?
A: Our factory has rich experience in export.We will assist customers with needs step by step, from placing orders to receiving poutry feed manufacturing equipment.
Q: What's the material of the machine?
It is made of stainless steel
Q: Do you supply samples ?
A: We are factory, and making machines costs, Large order , Large discount , we can not offer sample machines .
Customers Who Viewed The Machine Also Viewed