Features
Tomato sauce is a very popular sauce. Therefore, many people want to start a ketchup business, but the fully automated production line costs a lot, and not everyone can budget to open a fully automated ketchup production line factory.
Then share a piece of equipment with a small investment to make tomato sauce. The tomato sauce making equipment is the best choice for ketchup, if your budget is very low.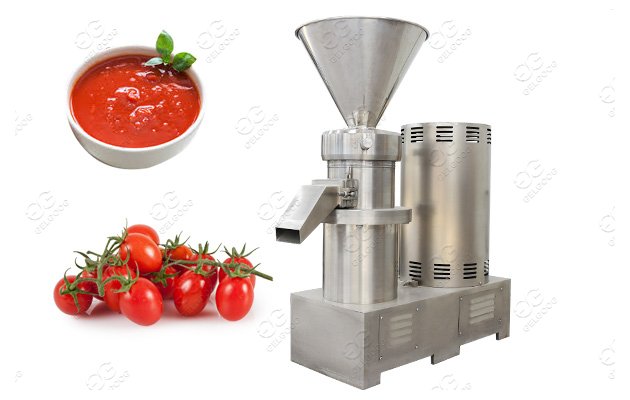 The tomato sauce making machine can put tomatoes into the inlet. If the output is small, the input port of the machine will be large. If the output is small, the tomatoes need to be chopped before entering the input port of the tomato grinder.
The tomato paste making machine is a centrifugal equipment with simple structure and convenient equipment maintenance. It is suitable for grinding materials with higher viscosity and larger particles.
The structure is simple, the operation is convenient, and the floor space is small.
High processing accuracy: Because the gap between the fixed grinding disc and the rotating grinding disc is extremely small, the fineness of the processed materials is relatively high. The gap between the two grinding bodies can be adjusted to a minimum of 50μ m to achieve the goal of controlling the particle size of the finished product. And you can tell us your fineness requirements, we can help confirm. Usually the fineness of colloid mill is generally 20-50μ m
The machine parts are made of stainless steel and are corrosion resistant.
We are professional tomato sauce making machine supplier. If you have any questions, you can consult us at any time.
Technical Data
Model
GGB-50
GGB-80
GGB-110
GGB-130
GGB-180
GGB-240
GGB-300
Output size
(mesh)
50-100
50-100
100-200
100-200
100-200
100-200
60-200
Capacity(kg/h)
7-8
70-100
300
400-600
800-1000
1500-2000
3000-4000
Power
(KW)
1.1(380V)
1.5(220V)
4(380V/220V)
7.5
15
18.5
45
75
Weight
(kg)
50
150
175
285
340
1300
1600
Customers Who Viewed The Machine Also Viewed