Features
The
paw feet peeling production line
is doing very well on peeling chicken feet and without damage.the chicken paw peeling machine is easy to operate,high peeling clean rate, high yield.
The whole chicken feet peeling production line includes chicken feet Blanching machine,chicken feet peeling machine,chicken feet cutting machine,Rinsing Machine,Pre-cooking Machine,Kneading and Seasoning Machine,Vacuum Packing Machine,Pasteurizer,Cooling Machine,Vibrate De-water Machine,Overturn Air Drying Machine.
We have professional construction and installation team. According to the requirements of users,we can provide the layout of the production process design and installation commissioning.Excellent after-sales service make free from worry.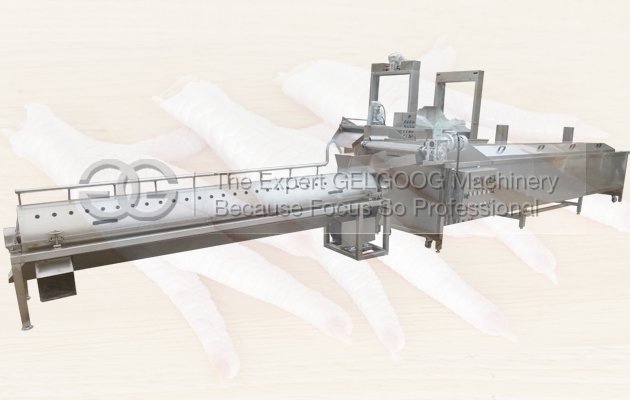 Technical Data
Item
Photo
Parameter


1, Belt Type Blanching Machine
(Electric Heating Type)


Power: 120kw, 380V-3 500KG
Dimension:5000*1200*1400mm
Capacity:1000kg/h


2, Chicken Paws Peeler Machine

Power:2.2kw 380v-3
Dimension:3000*600*1300mm
Capacity:1000kg/h
3, Elevator
Power: 0.75kw380V
Weight: 150kg
Dimension: 1500*670*1300mm
Capacity: 1000kg/h
4, Chicken Feet Cutter Machine
Power: 1.5KW
Weight: 220kg
Dimension: 3000*800*1200mm
Capacity: 1000kg/h
5, Rinsing Machine
Power: 4.75KW
Weight: 400kg
Dimension: 4000*1200*1400mm

6, Pre-cooking Machine
Power: 120kw 380V,
Weight: 500kg
Dimension:5000*1200*1400mm
7, Kneading and Seasoning Machine
Power: 1.1KW, 380v-3
Weight: 500kg
Dimension:1800*1200*1700mm
8, Vacuum Packing Machine
Power: 4KW, 380v//50hz
Weight: 800kg
Dimension:1780*1400*1500mm
9, Pasteurizer
Power: 1.1kw 380v-3 Weight:500kg
Dimension:4000*1200*1400mm

10, Cooling Machine
Power: 4.75kw
Weight: 400kg
Dimension:3000*1200*1400mm
11, Vibrate De-water Machine
Power:380v/0.25kw
Dimension:1800*1100*1300mm
12, Overturn Air Drying Machine
Power: 7.75kw
Weight:400kg
Dimension:4000*1200*1400mm
Customers Who Viewed The Machine Also Viewed