Features
The
fruit vegetable elevator
is wild used in many factory in order to make save labor.The elevator with mesh of stainless steel 304, mesh size of 3mm, all frame of 50*50*2mm, superior stainless steel 304 tubes, bearings are made of stainless steel 316 bearings, All motors are with superior copper wire and adjustable-speed, working speed is adjustable, frequency converter is from Jananese Mitsubishi, electrical is from Schneider.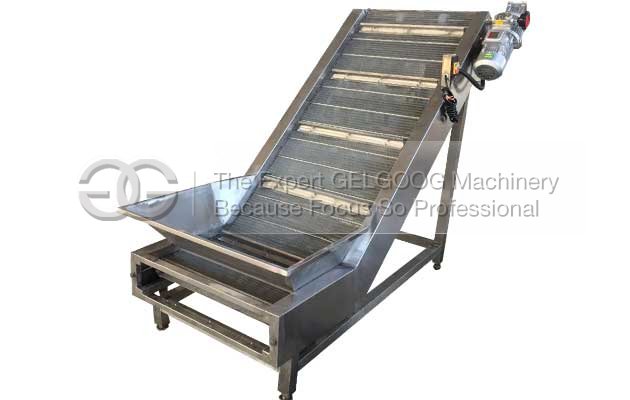 Bucket elevator: suitable for low elevation to elevate, supply material through the vibrating table into the hopper after the machine automatically running up. According to the transfer amount of transmission speed of adjustment, and with the need to choose the lifting height; hopper for our company to design and manufacture, the non-toxic PP hopper type bucket elevator is used more widely, all dimensions are in accordance with the actual needs of the design and manufacture, vertical packaging machine for matching, computer quantitative measurement of machine design, suitable for food, medicine, chemical industrial products, screws, nuts and other products of the bucket feeding, through the signal recognition of packing machine to control machine automatic shutdown.
Bucket elevator features: used for Z type conveying of powdery, granular and small pieces of material. It has compact structure, small area, high lifting height, good sealing performance and no breakage of material. The load of the machine is maintained.
The bucket elevator and the bucket elevator are in the closed shell, conveying the material through the hopper suspended in the chain. Can be horizontal - vertical - horizontal combination delivery. Single point or multi point can be added, and single or multi point discharge can be completed through a specially designed unloading device. It is completely closed, unleaked and pollution-free. It is suitable for conveying all kinds of powdery material and granular material, which is the best for transporting non - adhesive material.
Technical Data
| | |
| --- | --- |
| Name | Elavator |
| Dimension | 1500*1000*1500mm |
| Power | 750W/380V,50HZ |
Customers Who Viewed The Machine Also Viewed