Features
Glass Bottle sterilization Machine
Mainly used to sterilization the bottle, Jar, Can, and canned food.
1, ressure vessels in accordance with the national standards GB150-1998 "steel pressure vessel manufacturing standards of design and manufacturing.
2,ISO9001-2000 quality assurance system, HACCP design and manufacturing requirements.
3,Referring to Japan's Osaka performance design company (HISAKA), the German company Storck (STOCKTEC), FMC Corporation USA, France Baal Hom companies retort manufacturer's product features, mainly in the distribution of heat within the reactor design and manufacturing indicators .
4,Operational process:
Machine is very easy to operate, all is control by control cabinet. All we do is put the bottle in the Sterilization plate , then open the Spray sterilization switch, after half hour, open the cooling valve, cooling the bottle, then all is ok.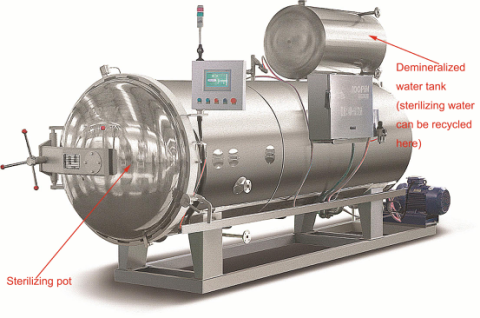 Technical Data
| | | |
| --- | --- | --- |
| Parts | specification | Quantity |
| Spray type sterilization pot (specialized for glass bottle) | PLH.0712.B.2 | 1 set |
| Sterilization plate (stainless steel) | 1200×450×200 | 2 pcs |
| Pallet car (stainless steel) | matching with sterilization plate | 1 set |
| Trolley (stainless steel) | Matching with pallet car | 1 set |
Customers Who Viewed The Machine Also Viewed