Features
The
automatic seeds shelling machine
is used for shelling the pumpkin seeds. The machine is saving time and labor,ideal machine for removal seeds shell. The pumpkin seeds shelling machine consist the rack, fans, rotors, single-phase motor, screen, into the hopper, shaker, triangular belt and its transmission V-belt and other components.
How dose the automatic seeds shelling machine work?
After the normal operation of the pumpkin shelling machine, the pumpkin seeds are quantitatively, uniformly and continuously fed into the hopper. The pumpkin seeds are crushed under repeated blows, rubbing and collision of the rotor, the pumpkin seeds and broken melon seeds shells , Through a certain aperture of the screen filter, separation. Melon seeds shell, the particles in the rotating fan blowing force, so that light weight melon shells blown out of the body, the heavier weight of peanut particles through the shaker screen to achieve the purpose of screening.
The machine works:
The main working parts of the machine, including rotation for the rejection of the material plate, the external impact of a fixed circle. Melon seeds into the work area is accelerated by the disc, with centrifugal inertial force to the impact ring, due to impact and shelling.
If you need video, click here:pumpkin shelling machine work vdieo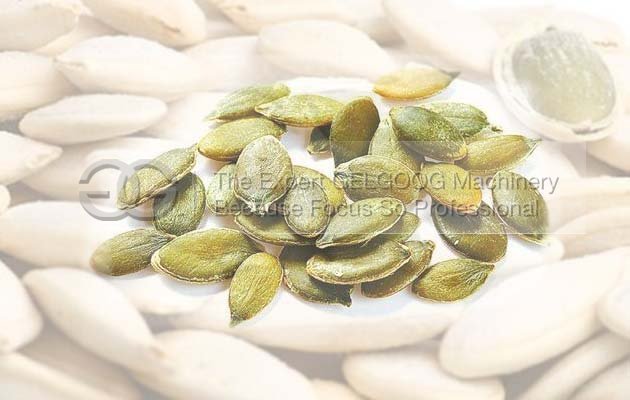 Technical Data
| | | | | | |
| --- | --- | --- | --- | --- | --- |
| Power | Whole Kernel Rate: | Capacity | Space occupied | Height | Weight |
| 8.19KW, 380V, 50HZ, Three-phase | more than 95% | 200-300kg/h ( different material , capacity will be a little different) | 6.5*2.9m | 3.5m | 2.5T |
Customers Who Viewed The Machine Also Viewed