Features
For frozen corn business, you know how to freeze corn.Before freeze cron, we need to blanch corn. Our sweet corn cob blanching machine will hellp your sweet corn business. The blanching machine also can be used for seafood, vegetable, quick-frozen products,quick-frozen potatoes and other products. And meat products and food industries such as: continuous cooking of beef, chicken, pork, poultry, and fish. Can be equipped with assembly line operations such as coloring and air-drying equipment. Long storage time, it is an indispensable ideal equipment for deep processing of food.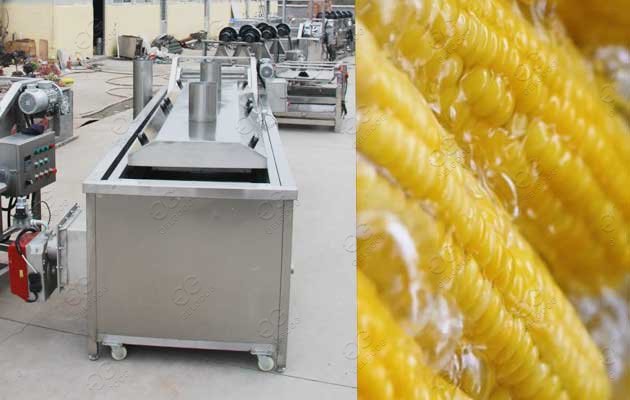 How long do you blanch corn ? Blanching time: 10-40min
Blanching temperature: 65 ℃ -95 ℃ adjustable
Steam pressure: 1-4kg
Processing capacity: customized according to customer needs
Running speed: stepless speed regulation
Mesh belt width: 1000mm
Power: 3kw cold water at room temperature, 22kw cold water
Air consumption: 0.5-1m3 / h
Power: 380v
The sweet corn blanching equipment has a double-layer mesh belt setting, which effectively presses the blanched vegetables in hot water, so that the vegetables can be blanched evenly. The speed of the mesh belt can be adjusted uniformly. The equipment is equipped with a pneumatic angle seat valve, and the steam will be replenished automatically when the temperature in the scalding pool decreases. When the temperature in the blanching tank reaches the set temperature, it will automatically shut down to save energy. The steaming and blanching line is suitable for the pre-cooking process of vegetables and fruits. It has the characteristics of good temperature control, high efficiency, and labor saving.
Technical Data
Machine
Model
Size(MM)
Weight(KG)
Mesh belt width(MM)
Continuous Sweet corn blanching machine
GGPLQ/D3500
3700*1400*2300
750
800
GGPLQ/D4000
4200*1400*2300
950
800
GGPLQ/D5000
5200*1400*2300
1100
800
GGPLQ/D6000
6200*1400*2300
1300
800
GPLQ/D7000
7200*1400*2300
1500
800
Customers Who Viewed The Machine Also Viewed