Features
Our fruit mango blanching machine can be used to blanch fruit and vegetables such as mango, carrots, asparagus, mushrooms and french fries. It is an indispensable step for pre-processing such as quick freezing, dehydration and freeze drying.
At high temperatures, not only can protect vegetable color, but also remove bacteria and insects on the surface of fruits or vegetables. It is a necessary equipment for fruit and vegetable processing factory.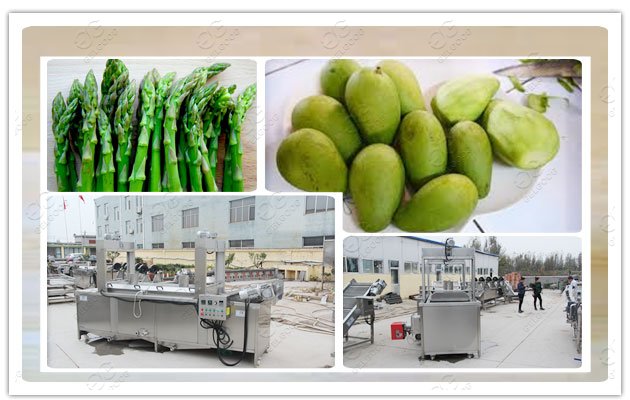 1: Our fruit bleaching machine is made of 304 stainless steel and meets hygienic standards.
2: For different heating methods in different regions, we have also carefully designed two heating methods, electric heating and gas heating, so that customers can choose a more suitable heating method according to their local lifestyle.
3: Insulation layer is set inside the blanching equipment. This can reduce heat loss. save energy.
4: The upper cover is provided with a lifting device, and the lower end of the machine is provided with a sewage outlet. Make cleaning machine be more easier..
5: We can customize the heating and cooling machine. According to the specific requirements of customers, the machine can be customized to match the entire process of fruit and vegetable processing.

Technical Data
Machine
Model
Size(MM)
Weight(KG)
Mesh belt width(MM)
Continuous Fruit Blanching Machine
GGPLQ/D3500
3700*1400*2300
750
800
GGPLQ/D4000
4200*1400*2300
950
800
GGPLQ/D5000
5200*1400*2300
1100
800
GGPLQ/D6000
6200*1400*2300
1300
800
GPLQ/D7000
7200*1400*2300
1500
800
Customers Who Viewed The Machine Also Viewed