Features
We are
coconut chips production line
manufacturer.The coconut chips line consist
coconut chips cutting machine,coconut flavoring machine,coconut roasting machine,coconut colling machine
.Coconut kernel is an effective source of carbohydrates and rich vegetable protein, and contains a lot of fiber. Dehydrated coconut slice is an important product of intermediate moisture coconut kernel. Coconut kernel with moderate moisture is a coconut kernel that is removed after nucleolus moisture and partially dehydrated through osmotic dehydration. A new method of drying based on permeation is used in which a partial dehydration in the form of a slice is achieved by immersing fresh nucleolus in a sugar solution and drying it by hot air. It is claimed that the product has better flavor and lower cost than freeze-drying. With this technology, a method of producing white sweet coconut slices by osmotic dehydration and hot air drying has been developed.
Coconut slices (cutted with
coconut chips cutting machine
) are shredded, dried meat or nucleoli of mature coconut. Each coconut shell is shelled and then separated, leaving only the white coconut meat. Send the meat to the conveyor belt and cut it. Then the coconut seasoning stage is made, and the seasoning machine can make the coconut taste different. After that is drying. Our dryer can make moisture content of coconut chips reach 3.5% and dry to 1.5%. The last is the cooling. If customers want to package, we can also provide packing machine.
The dried coconut chips are ready to eat, which can be used as snacks or can be used at any time, just like the fresh nucleolus after the chips are hydrated again. The diversification of coconut chips will enhance the market sales and consumption of coconut chips. By giving the natural color of sweet coconut chips, the nutritional quality and attractiveness can be improved, so that it can flourish in the domestic market.
For coconut,we also have husking machine,peeling machine,meat milk machine and others.Contact feely if you have any problem about our coconut machines or need price. Email:wendy@machinehall.com.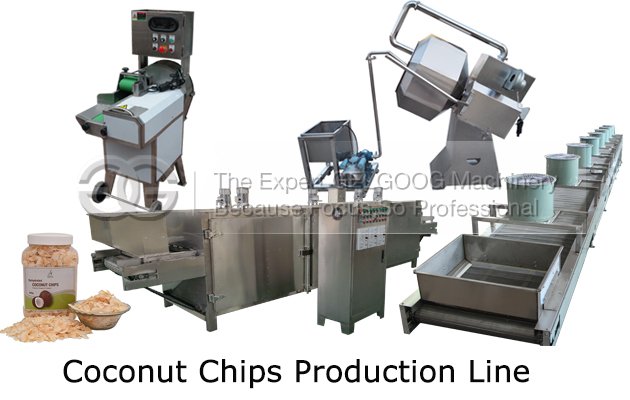 Technical Data
| | | | |
| --- | --- | --- | --- |
| No | Equipment | Power(KW) | Dimension |
| 1 | Cutting machine | | 750*500*1000 |
| 2 | Flavoring machine | 0.75 | 1300*1100*1550 |
| 3 | Roasting machine | 2.6+20 | 6000*1500*1400 |
| 4 | Cooling machine | 1.85 | 3000*1000*1200 |
Customers Who Viewed The Machine Also Viewed