Features
Features:
Vegetables cutting machine for mushroom, onion, celery, rape, spinach and other vegetables, roots elongated cut, the machine has the following characteristics:
1, rotating bezel hand wheel, you can adjust the distance between the front and rear baffle to control the size of the cut roots.
2, automatic delivery conveyor baffle rhizome cutting speed, high efficiency.
3, equipment to implement non-consumable design, longer service life, lower cost and higher efficiency.
4, 304 stainless steel body and shell, more in line with international health standards.

Operations:
1, turn on the power switch, the motor starts to work.
2, delivery start switch, the conveyor belt starts running.
3, the neat vegetable roots near the shutter position, placed in a horizontal run of the conveyor belt, the conveyor belt is automatically fed to the vegetable garden at the high-speed rotating cutter, cutting.
4, according to the size of the vegetables to be processed, adjust adjustable stand at the turret, to be able to suppress the vegetables is limited.
5.Timing Brothers: end artificial grindstone grasp the other end of the rotary cutter garden a 30 degree angle, and blade tangent gradually close, with abrasive blade repair.

Instructions:
It used to cut the roots of vegetables,such as celery, lettuce,spinach and other long stem vegetables.The length of removing roots can be adjustable.The conveyor belt works automatically with fast speed and high efficiency. You can choose only to cut the root, then it is a little cheaper. Also can finish the root cutting and stem cutting on one set of machine, only need adjust the cutting distance, but cost is a little different. It is longer using life and easy to operate. You only need add oil to the bearing and grind the cutter each a period of time.
It is made of stainless steel, won't be rusted even working with water for longer time.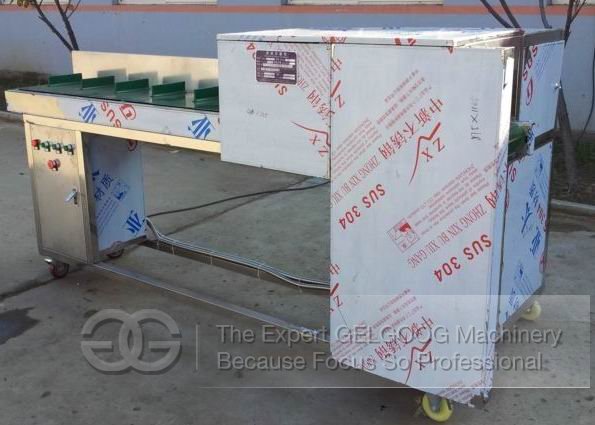 Technical Data
| | | | | | | |
| --- | --- | --- | --- | --- | --- | --- |
| Model | Voltage | Power | Cutter speed | Conveyor belt speed | Dimension | Weight |
| GG-1 | 220/380v | 3.3kw | 2800r/m | 65r/m | 2800*1200*1000mm | 150kg |
FAQ
Q:Is it automatic model or manual ?
A: This is full automatic model , it is high efficiency .
Q: What's the material of the machine ?
A:The machine is made of SUS 304, which is high standard material .
Q:Can the size adjustable ?
A : The feeding and size can be adjusted , the size is custumed and confirm .
Q: How to make different product in one machine ?
A:The machine is multifunctional , it can through change the mould of the machine, and you can make dumpling , samosa , ect.
Customers Who Viewed The Machine Also Viewed