Features
Mango washing machine is a very important decision in mango processing. Our mango cleaning machine can effectively remove the leaves inside the fruit and remove the dust on the surface of the mango. We can also customize the mango cleaning machine according to the needs of customers, and can add an ozone device,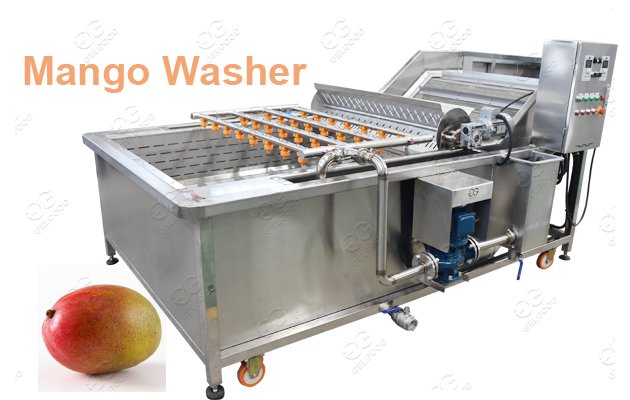 Our mango cleaning machine is suitable for many kinds of fruits. Such as apples, citrus, oranges, avocados, pineapples, etc. The mango cleaning equipment is equipped with a bubble generating device, so that the fruit makes the material in a tumbling state. Under the action of the high pressure and strong air bubbles in the water tank, it is fully broken up, tumbling, cleaning and conveying. The silt removed from the surface of the fruit sinks into the isolation bin at the bottom. There will be no re-pollution caused by overturning and backflow. Impurities and small insects floating in the water are collected through the mesh of the cleaning mechanism. The next time the hair roller is cleaned, after washing After the material is out of water, it is sprayed and cleaned and sent to the next process.
The mango washer is made of stainless steel SUS304/2B except for standard parts such as motors and bearings, which fully meets the requirements of export food hygiene. The fruit and vegetable cleaning equipment is designed with a circulating water pump and a filter water tank. It adopts bubbling, surfing and high-pressure spraying. There is a compulsory impurity removal filter water tank in the box body for water circulation treatment to remove debris mixed into the product and thoroughly clean it. Such cleaning equipment is an indispensable equipment for fruit processing factories.
For mango processing equipment, we also have mango blanching machine,mango peeler, mango cuter, mango pulp machine, mango drying equipment, etc.
If you want to know the price of mango processing equipment, please leave a message on the website, or email or call us directly. We will get back to you as soon as possible.

Technical Data
Bubble Type Mango Washing Machine
Power(KW)
Size(MM)
Weight(KG)
Mesh width(MM)
GGXQ3000
2.2/0.75/1.5
3100*1400*1500
500
600
GGXQ4000
4/1.1/1.5
4100*1400*1500
700
800
GGXQ5000
5.5/1.5/2.2
5100*1400*1500
900
800
GGXQ6000
5.5/1.5/2.2
6100*1400*1500
1000
800
GGXQ7000
5.5/1.5/3
7100*1400*1500
1200
800
GGXQ8000
5.5/1.5/3
8100*1400*1500
1350
800
The above three powers are: air bubble, conveyor motor mesh belt and water pump.
Customers Who Viewed The Machine Also Viewed