Features
The Dried Fruit Machine can be used to remove water from fruits then make dried fruits. Dried fruit has a broad application market. Our dried fruit making machine can well solve the problem of mass production of dried fruit.
Suitable for: a variety of materials such as: apple chips, dried mango, onion, mushrooms and so on.

The fruit dehydrator machine is a batch and continuous production drying equipment. The main heating methods are electric heating and gas heating. The main principle is to spread the material evenly on the mesh belt, drag it back and forth in the dryer by the transmission device, the hot air flows through the material, and the water vapor is discharged from the drainage hole to achieve the fruit drying. purpose.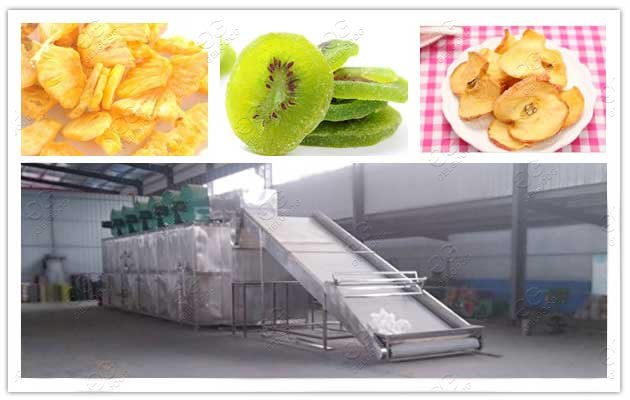 We are dried fruit making machine manufacturer with more than 10 year, well know about the machine to make dried fruit. Show you fruit dried machine work.
The hot air of each unit circulates independently. Part of the exhaust gas is discharged by a special dehumidifying fan. The hot air passes through the mesh belt covered with materials from top to bottom or from top to bottom to complete the process of heat transfer. The running speed can be adjusted freely with the humidity of the material, and the dried material falls into the collector.
Dried fruit processing equipment characteristics
1. The running speed can be freely adjusted according to the moisture content of the material and the drying time.
2. The material contact part is made of 304 stainless steel, which is safe and hygienic.
3: The dried fruit is uniform.
4. The heating method can be freely selected according to user needs (electricity, gas)
5, continuous production in large quantities, while retaining the maximum nutritional content and color of the product.
Customers Who Viewed The Machine Also Viewed