Features
The use of durian washing and sterilization machine is an indispensable equipment for modern durian processing. After sorting, the durian will be cleaned, sterilized, boxed, and transported. The maturity changes in the environment after picking, so the pre-treatment of durian needs to be carried out quickly. Compared with food machinery and manual labor, fruit process machine can greatly improve work efficiency. That's why we have researched durian cleaning and sterilizing machine for many years to help customers better process durian.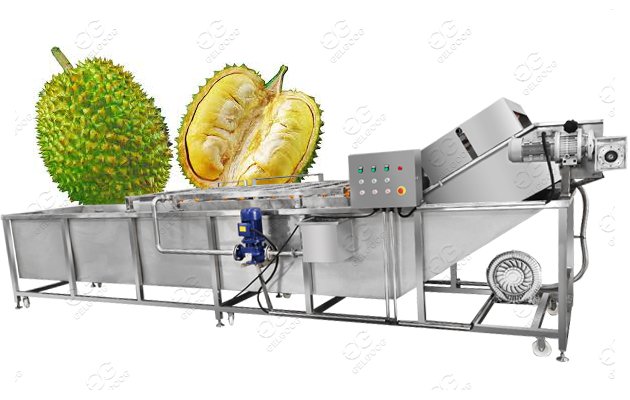 Durian first needs to be cleaned. Before it is exported to other countries, Because durian is food, it must be tested by the Inspection and Quarantine Bureau during the entry process. Improperly cleaned durian may carry unknown microorganisms, posing a certain threat to the country's ecological security. This is also the Announcement on Allowing Import of Malaysian Frozen Durian by the General Administration of Customs of China in 2019, which is a necessary condition for Malaysian frozen durian in shell to be officially allowed to enter China.
Durian washing machine is now relatively mature. It is understood that the fruit cleaning machines on the market have one or more cleaning methods such as bubble washing, spray cleaning, and brush washing. Aiming at the uneven surface of durian, the feature of bubble washing can be developed. Durian storage conditions are harsh, and it is easy to be damaged if the temperature is too high, and frostbite if the temperature is too low. We can use ozone for sterilization.
Therefore, our durian washing and sterilization machine adopts bubble washing and ozone sterilization way.
In addition, durian is a heavy fruit, it needs a strong shock force during the bubble washing stage to make the durian float and flip. Our fruit durian washing machine is equipped with an ultrasonic device and aeration pump. The combination of the two makes the fruit washing machine form a fierce vibration effect, and it is easy to clean the durian. The durian washing machine is also equipped with an air trunk line, which can further speed up the durian production process. As an indispensable equipment in the production of various fruit vegetables, the washing machine has been fully developed in connection with other equipment. Sterilizers, air drying machine, high-pressure spray equipment, etc. can be added according to customer needs. Contact us freely for your durian process business.
Technical Data
| | | | | |
| --- | --- | --- | --- | --- |
| Durian Washing and Sterilizating Machine | Power(KW) | Size(MM) | Weight(KG) | Mesh width(MM) |
| GGXQ3000 | 2.2/0.75/1.5 | 3100*1400*1500 | 500 | 600 |
| GGXQ4000 | 4/1.1/1.5 | 4100*1400*1500 | 700 | 800 |
| GGXQ5000 | 5.5/1.5/2.2 | 5100*1400*1500 | 900 | 800 |
| GGXQ6000 | 5.5/1.5/2.2 | 6100*1400*1500 | 1000 | 800 |
| GGXQ7000 | 5.5/1.5/3 | 7100*1400*1500 | 1200 | 800 |
| GGXQ8000 | 5.5/1.5/3 | 8100*1400*1500 | 1350 | 800 |
Customers Who Viewed The Machine Also Viewed