Features
Our fruit dehydration machine can be used to drying fresh fruits to make dried fruits. Generally, the dried fruit has a water content of less than 20%.Customers can freely control the dehydration time and temperature of the dehydration equipment.The operation is very simple.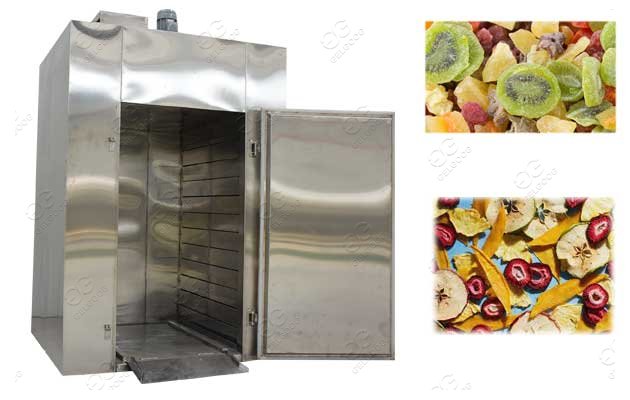 Industrial Fruit Dehydrator Machine Performance Introduction
This industrial fruit dehydrator machine is a special equipment for apple chips, mango chips, herb,mushrooms, and fungus. It consists of a heating chamber and a material chamber. The main equipment includes heating equipment, ventilation and dehumidification equipment, and temperature and humidity control equipment. The hot air in the drying machine is closed in the drying box in a descending cycle, with high thermal efficiency and energy saving. There is no secondary pollution, which meets the requirements of national food hygiene standards.
2. Material putting room
The material is placed in a tray structure, and the material room and the heating room are separated by aluminum plates. The drying trays can be customer according customer demands.
3. Heating room
Install electric heating equipment and generate hot air in the space. Install a blower at an appropriate location. The fan will force the air to circulate, so that the vegetable dehydration machine temperature difference between the upper and lower parts of the dryer is small. The unique adjustable air divider perforated plate ensures uniform temperature.
4. Hot air conveying method
The circulating fan sends the hot air into the hot air channel, and then enters the material chamber through the small holes on the tray rack. This left and right air supply method is adopted to make the drying more uniform.
5. Heating equipment
fruit dehydration machine electric heating and gas heating are available for customers to choose. Low operating cost, and choose a reasonable energy source according to the situation.
6. Ventilation and dehumidification equipment
The temperature and humidity in the drying box are automatically controlled to ensure the appropriate temperature and humidity for drying.

Technical Data
| | |
| --- | --- |
| Model | GGHX2-2 |
| Number of drying cars | 2 |
| Number of Baking tray | 48 |
| Door | 2 |
| Circulating fan(Set) | 1(0.75KW) |
| Draining fan (set) | 1(0.55KW) |
| Heating power (KW) | 18 |
| Pre-package size (MM) | 2.5x1.2x2.35 |
| Weight before packaging (KG) | 760 |
| Packaged size (MM) | 2.63x1.36x2.26 |
| Weight after packaging (KG) | 830 |
| Capacity(KG) | 144 |
Customers Who Viewed The Machine Also Viewed