Features
One of the
fruit and vegetable sanitizing machine
is called ozone vegetable washing machine and ozone disinfection for vegetables. Ozone washing fruits vegetables is mainly used for cleaning mushrooms, celery, spinach, cabbage and other stalks and leafy vegetables and fruits such as apples, tomatoes, peppers, eggplants, cucumbers, strawberries and so on. Fruit and Vegetable Sanitizing Machine with Ozone system improves the safety of fresh fruits and vegetables, its unique feature of pre-cooling improves the shelf life of the fruit vegetables without the need of cold store room.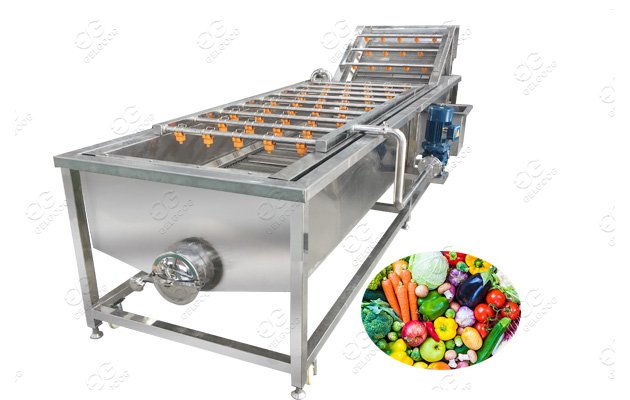 Ozone vegetable washing machine introduction:
Ozone fruit and vegetable washer adopt fully automatic computer control.
Multifunction cleaning, sterilizing and detoxifying.
Drainage is done automatically with ozone vegetable washer.
Ozone fruit washer have recycling function. And the recycling of washing water can save 80% of water.
The vegetable fruit sterilizer cleaner washer is made of stainless steel, strong and durable.
Ozone vegetable cleaner will not hurt fruit and vegetables, and keep vegetables good shape.
The cleaned object by ozone vegetable washing machine is more than three times cleaner than the manual cleaning method.
The working principle of ozone fruit and vegetable sanitizing machine:
First of all, the vegetables that need to be cleaned are put into the ozone fruit and vegetable washer sink, under the action of high-pressure water flow and strong air bubbles, they are fully rolled, washed, and transferred. The sediment on the surface of the vegetables will fall off and settle to the ozone vegetable washer bottom isolation bin, preventing the re-contamination caused by backflow. The debris and bugs washed down from the vegetables will float on the surface of the water and then be collected by the mesh. The water overflowing the sink is discharged from the water tank and enters the nylon bag. After the vegetables are washed by ozone vegetable washing machine, they are sprayed and washed, and then sent out through the conveyor belt. There is a blowing device at the end of the conveyor belt, and the debris that has not been completely cleaned is blown off.
Advantages of adding fruit and vegetable sterilizing machine with ozone device:
The ozone device system provided by the fruit and vegetable sterilizing machine helps to effectively clean the surface of fresh fruit vegetable and is 100% bacteria free
Further it improves the self life of the product through pre-cooling of vegetables at +8 de-grees with the help of an online water cooling system equipped with the fruit vegetables washing sanitizing line.
If you wish to enquire for washing solution , fill the enclosed form and our engineer will guide you on making the selection
If you want your
fruits to meet the export standards
, you need to
wash the fruits and vegetables
to remove residual pesticides and molds, etc. You can See the blog
9 Ways To Eliminate Pesticide Residues In Vegetables And Fruits
Technical Data
| | | | | |
| --- | --- | --- | --- | --- |
| Ozone Fruit and Vegetable Sanitizing Machine with ozone device | Power(KW) | Size(MM) | Weight(KG) | Mesh width(MM) |
| GGXQ3000 | 2.2/0.75/1.5 | 3100*1400*1500 | 500 | 600 |
| GGXQ4000 | 4/1.1/1.5 | 4100*1400*1500 | 700 | 800 |
| GGXQ5000 | 5.5/1.5/2.2 | 5100*1400*1500 | 900 | 800 |
| GGXQ6000 | 5.5/1.5/2.2 | 6100*1400*1500 | 1000 | 800 |
| GGXQ7000 | 5.5/1.5/3 | 7100*1400*1500 | 1200 | 800 |
| GGXQ8000 | 5.5/1.5/3 | 8100*1400*1500 | 1350 | 800 |
Customers Who Viewed The Machine Also Viewed