Features
The
fruit and vegetable washing line
are suitable for strawberries, blueberries, apples, pears, and other fruits. The fruit vegetable washing line is suitable to wash and clean vegetables of different shapes and profiles.
Our vegetable washing line adopts a unique bubble cleaning method, it will be very clean after washing, and will not harm the fruit. The vegetable washing line contains washing machine and air drying machine, sorting machine. If you need we also can provide you vegetable packing machine. The fruit and vegetable washing processing line uses high-quality SUS304 stainless steel, which meets the national food industry standards. Fruit and vegetable washing line is designed for the material with high requirements.
NOTE: Vegetavle washing line solution provider:
We Can add ozone sterilization, high-pressure spray, handpicking machine, sorting machine, and other functions according to customer requirements. We also have fruit juice extraction machine for customer choice.
Vegetable Washing machine: a thorough cleaning and does not hurt the fruit and vegetable.
Spray line: secondary cleaning, spray cleaning way save water and energy.
Vegetable Air Drying Machine: Quick-drying of the fruit vegetables, removal vegetables surface water. And to prevent secondary pollution.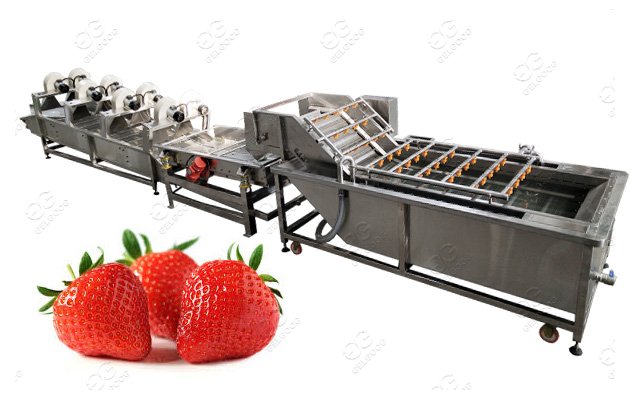 Vegtable washing line application:
The multifunction vegetables washing line is not only suitable for small farmers, but also serves supermarkets, grocery shops, commercial and institutional catering services, food processors, sauces, and vinegar makers. The best feature of the washing machine is, it can also clean the roots and leafy vegetables through an adjustment in the washing cycle.
How to set fruit vegetable processing factory?
Fruit vegetables line Facility required for the setup is mentioned as follows:
Built-up Area: 1000 square feet's (preferably open shed with a proper drainage system
3000 liters overhead water storage facility
500 liters per hour Reverse Osmosis water treatment and storage facility for final product wash.
15~20 kW three-phase power connection.
2-3 people to operate the plant.
Fruit Washing Line Washing Output:
Through the plant, one can clean 300~400 kgs of vegetables or fruits in an hour.
The plant can be operated for 10-15 hours a day.
Water quality monitor is offered as optional.
We are a leading manufacturer of fruits and vegetables cleaning lines, the design of our vegetables washing line benefits the users through saving of labor, water, and resources. Contact us if you are interest in our vegetable washing solution.
About Customization and Price of Fruit and Vegetable Washing Line:
The vegetable washing solution configured for each customer may be different, which means that the price of each vegetable washing line is different. You can tell us your specific needs, and we will configure the appropriate washing machine according to your needs. The price of the specific vegetable washing line depends on the requirements of the customer's customized washing machine and the use of materials, the cleaning machine of different output, and the need for other graded air-drying packaging. For details, please call +8618559931566 directly or contact us online. We will provide you with an accurate quotation as soon as possible. Sincerely look forward to your call and your exchanges and cooperation!
Technical Data
Fruit and Vegetable Washing Drying Machine Line
Machine name
Power
Size
Fruit and vegetable washing machine
5.1kw/380v/50Hz
5000*1400*1400mm
Brush Roller Cleaning Machine
2.6kw/380v/50Hz
3500*1100*1100mm
Air drying machine
3.1kw/380v/50Hz
4000*1100*1000mm
Hand Picking Machine
0.75kw/380v/50Hz
3000*800*900 mm
Customers Who Viewed The Machine Also Viewed