Features
In fruit processing factories, processing clean fruit is a guarantee of high-quality finished products. The existence of the fruit washing line is to help factories clean fruits and vegetables faster and better.
The fruit washing and drying line will be used as a chlorine bath for the processed fruit, which is at the end of the line to disinfect the fruit before packaging; the chlorine water will flow through, then the fruit will be dried, and the water will be spin-dried before sending it out (If needed). Can be processed for quick-frozen fruits.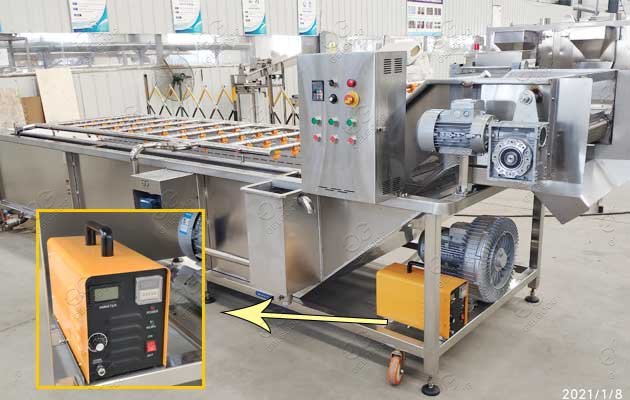 The processing flow of fruit washing and drying machine:
1: Put the fruits we want to process into the washing machine. After the fruit enters the washing machine, we can clean it with a bubble washing machine for 1 minute (if needed), and then soak it for 3-5 minutes. At this time, the water used in the washing machine is 1-4 degrees RO water, and the temperature of the water is controlled by the chiller.
2: The chiller uses a Japanese Panasonic compressor with a power of 5HP and a flow rate of 100 liters per minute.
3: Connect the RO water to the entrance of the washing machine and add a UV lamp for preliminary disinfection.
4: The soaked fruits are lifted to the blower through the 304 stainless steel chain conveyor belt (speed variable frequency adjustable), and the water on the surface is slightly blown off, and then manually transferred to the tray.
5: The cleaned and sterilized fruits are subjected to the next step of deep processing.
For the provision of fruit cleaning solutions, some special materials, such as blueberries, have different densities for blueberries of different maturity levels. At this time, additional customized services may be required. We can provide customized fruit cleaning solutions.
Contact us to obtain information about your fully automatic fruit cleaning equipment to make your fruit processing plan more automated and intelligent.

Technical Data
Item
Washer+Dryer
Chiller
Model
XQ3000F
GG-05A
Power
Conveyor: 0.75kw
Bubble Generator: 2.2kw
Water Pump: 0.75kw
Blower: 0.75kw*4
Compressor: 5HP
Water Pump: 0.5HP
Fan: 0.18kw*2
Cooling: 15kw
Voltage
415V/50Hz/3Phase
415V/50Hz/3Phase
Machine Material
304 Stainless steel
Compressor+ Evaporator+ Condenser
Conveyor width
800mm (SUS 304 Chain plate)
**
Water working temperature
1-4℃
Normal temperature to 1-4℃
Water flow rate of 100 liters per minute
Weight
460Kg
170Kg
Size
Machine: 3225*1580*1950mm
Total Volume: 1360 liters
Input height: 868mm
Output height: 1000mm
Height is customized.
Machine: 1250*630*1240mm
Main plate: 2mm,
Sealing plate: 1.5mm
Customers Who Viewed The Machine Also Viewed