Features
Fruit Sanitize washing machine Introduction:
Fruit washing and air drying machine have sanitize function. The jackfruit washing line is suitable for cleaning vegetables, fruits, carrots, apples, sweet potatoes, potatoes, vegetable leaves, strawberries, tomatoes, dates, etc. Rinse with water after filtration and recovery.
The jackfruit sanitizer and cleaner machine has a variety of technical specifications. The washing machine is designed by our well-trained professionals using modern technology. We have a professional R&D team that can determine the most suitable washing machine according to the specific needs of customers.
The jackfruit machine uses surfing, bubbling, and spraying water to clean fruits and vegetables. Under the action of bubbles and spray cleaning, the surface can be thoroughly cleaned.
The jackfruit sanitizing machine is made of SUS304 material (except for standard parts such as motors and bearings), which fully meets food hygiene requirements. The machine is equipped with a bubble generator to make the material tumble. Energy saving, stable and reliable.
At the same time, you can add an appropriate amount of chlorine water for disinfection, the float can overflow from the overflow tank, and the sediment can be discharged from the discharge port to achieve the purpose of cleaning.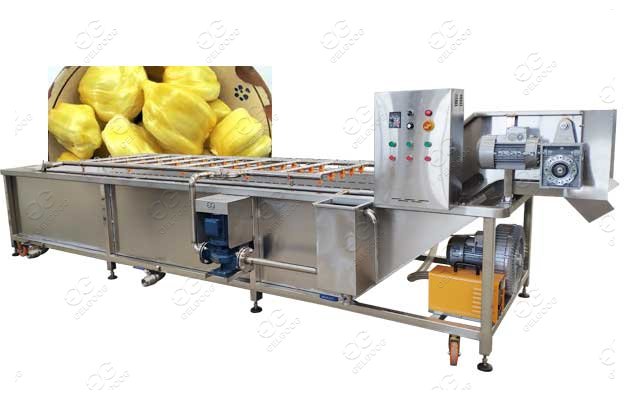 Jackfruit Fruit Washing Machine Work program:
1. After the jackfruit enters the washing machine, we can bubble clean for 1 minute if need, and then soak for 3-5 minutes. Here we use RO water of 1-4 degrees, and the temperature of the water is controlled by the chiller.
2. The chiller uses a Japanese Panasonic compressor with a power of 5HP and a flow rate of 100 liters per minute.
3. RO water is connected to the entrance of the washing machine, and an ultraviolet lamp is added for preliminary disinfection.
4. The soaked jackfruit is lifted to the blower through the 304 SUS chain conveyor to slightly blow off the surface water, and then transferred to the tray manually.

Technical Data
Item
Washer+Dryer
Chiller
Model
XQ3000F
GG-05A
Power
Conveyor: 0.75kw
Bubble Generator: 2.2kw
Water Pump: 0.75kw
Blower: 0.75kw*4
Compressor: 5HP
Water Pump: 0.5HP
Fan: 0.18kw*2
Cooling: 15kw
Voltage
415V/50Hz/3Phase
415V/50Hz/3Phase
Machine Material
304 Stainless steel
Compressor+ Evaporator+ Condenser
Conveyor width
800mm (SUS 304 Chain plate)
**
Water working temperature
1-4℃
Normal temperature to 1-4℃
Water flow rate of 100 liters per minute
Weight
460Kg
170Kg
Size
Machine: 3225*1580*1950mm
Total Volume: 1360 liters
Input height: 868mm
Output height: 1000mm
Height is customized.
Machine: 1250*630*1240mm
Main plate: 2mm,
Sealing plate: 1.5mm
Customers Who Viewed The Machine Also Viewed