Features
Air Bubble Vegetable Washing Machine brief introduction :
This vegetable and fruit washing machine is also called a bubble type vegetable washing machine. The air bubble vegetable cleaner has a bubble generator to ensure the best vegetable cleaning effect. The ozone and bubble generator installed in the washing machine can fill the water with bubbles and ozone, so as to obtain a deep cleaning effect during the cleaning process.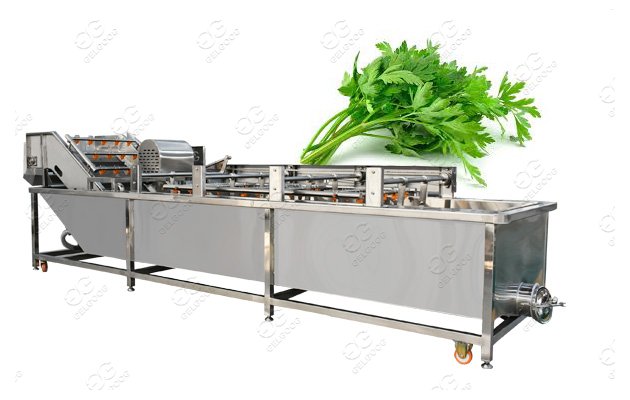 Air bubble vegetable cleaner application:
The air bubble vegetable cleaner is suitable for many purposes: factories, hotels, restaurants and farms, etc.
Fruits and vegetables that can be used for cleaning are: dates, apples, oranges, tomatoes, cherries, celery, peppers, etc.

How the air bubble is made in the vegetable washing machine?
The air bubble type vegetable washing machine has dual functions of air bubble and spray. The fruit and vegetables can be cleaned in all directions and multiple angles. But how did the bubbles come about? There is an air pump under each bubble type washing machine. The air pump can generate bubbles at the bottom of the water tank after it starts to work. The generated air bubbles can wash vegetables.

Advantages of air bubble vegetable cleaning machine:
1. A variety of output is available for customers to choose, and the washing machine can be customized according to customer needs.
2. The cleaning machine is made of 304 stainless steel, which has corrosion resistance and rust resistance.
3. This machine can be installed with ozone and air bubbles to disinfect vegetables and fruits.
4. The machine can be equipped with a hoist to realize automation and save labor costs. Equipped with related equipment such as classifiers and air dryers.

Green leafy vegetable washing machine is bubble type, no damage, can wash and wash vegetables. If you need a machine, please leave a message on our website for a quote.


Technical Data
Leaf Vegetable Cleaning Machine
Power(KW)
Size(MM)
Weight(KG)
Mesh width(MM)
GGXQ3000
2.2/0.75/1.5
3100*1400*1500
500
600
GGXQ4000
4/1.1/1.5
4100*1400*1500
700
800
GGXQ5000
5.5/1.5/2.2
5100*1400*1500
900
800
GGXQ6000
5.5/1.5/2.2
6100*1400*1500
1000
800
GGXQ7000
5.5/1.5/3
7100*1400*1500
1200
800
GGXQ8000
5.5/1.5/3
8100*1400*1500
1350
800
The above three powers are: air bubble, conveyor motor mesh belt and water pump.
FAQ
Q: Do you supply samples ?
A: We are factory, and making machines costs, Large order , Large discount , we can not offer sample machines .
Q:How can we visit your factory ?
A: For small capacity machines, we have machine instore usually , you are highly welcomed to visit us . Do not heisited to call us !
Q:Is it automatic model or manual ?
A: This is full automatic model , it is high efficiency .
Q: What's the material of the machine ?
A:The machine is made of SUS 304, which is high standard material .
Customers Who Viewed The Machine Also Viewed