Features
The lychee rambutan washing machine can clean the fruit and remove the impurities in the fruit. Can be better processed such as grading, pitting, juicing, etc. We can provide a complete Longan rambutan production line.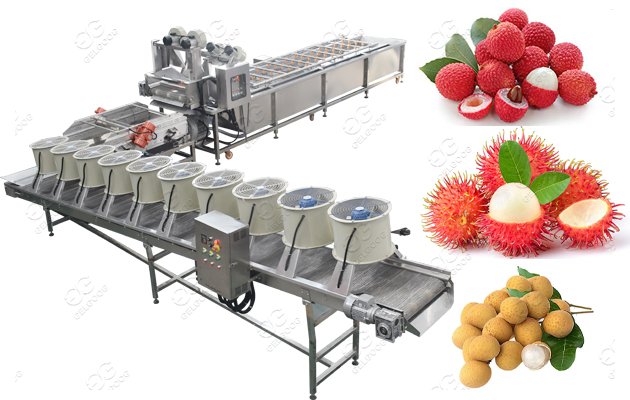 Why do we need bubble type lychee washing machine?
Generally speaking, fruit processors wash the fruit mainly to remove the soil and microorganisms on the surface of the fruit.
Remove the sand and impurities on the surface of litchi rambutan during the growth process. During the growth, maturation, picking, storage, and transportation of litchi, rambutan and longan, it takes a long time and goes through many processes, which will inevitably be contaminated with sand, impurities, etc. The presence of these soils and impurities will have an adverse effect on the processing quality of the product, so these sands, impurities, etc. must be washed and removed. Therefore, we need to use a lychee washing machine to clean rambutan, lychee, longan, etc. before deep processing of lychee.
Longan washing machine application:
Rambutan cleaning machine can not only be used to clean rambutan, lychee, longan, etc., but also suitable for various vegetables and seafood. For example, apples, oranges, lettuce, spinach, broccoli, carrots, potatoes, etc.
Our fruit washing machine has a high degree of cleanliness and can maintain the original color. It can also be used for the desalination of pickled products, soaking and cleaning of dry materials, and for fixing materials and adding fixing agents. The rambutan washing machine can be combined with our company's conveying equipment to form a fruit washing line. The fruit washing production line includes bubble type washing machine, air drying equipment, picking belt, etc.
Advantages of litchi washing machine:
1. Made of sus304 stainless steel, with good structural strength and stable conveying.
2. The rambutan washing machine adopts the design of natural circulating water pre-cooling and surfing, ---product pre-treatment and cleaning;
3. The longan washing machine adopts bubble tumbling design, which can clean the product in all directions, and the cleaning operation speed can be adjusted to suit different output and cleaning requirements.
4. The fruit washing machine has a high degree of automation, and the operation and maintenance are simple and convenient.
5. Circulating water can be recycled after being filtered, saving water resources.
6. It can be equipped with hoist, vibrating screen, air dryer and other equipment to form a rambutan washing line. In order to remove the moisture on the surface of the product after cleaning, it can be quickly packed or the next process.
Technical Data
Lychee Washing Machine
Model
Mesh Belt Width
Delivery Power
Pump Power
Air Pump Power
Hand Power (customized)
Dimensions (MM)
GGXQ2500A
800
0.75
0.75
2.2
0.55
2725×1504×1329
GGXQ3000A
800
0.75
0.75
2.2
0.55
3225×1504×1329
GGXQ3500A
800
0.75
0.75
2.2
0.55
3725×1504×1329
GGXQ4000A
800
0.75
0.75
2.2
0.55
4225×1504×1329
GGXQ5000A
800
1.5
1.5
4
0.55
5225×1504×1329
GGXQ6000A
800
1.5
1.5
4
0.55
6225×1504×1329
Customers Who Viewed The Machine Also Viewed