Features
In order to preserve moringa leaves and make it easier to use, people need to process moringa leaves. Usually storage methods are dried moringa leaves and moringa leaf powder.

Moringa leaf processing:
Fresh Moringa leaves washing-leaf drying-powder grinding-powder packaging
Our Moringa leaf processing machine comes in many types and capacity models. Different capacities, different machine models. Can be customized according to customer requirements.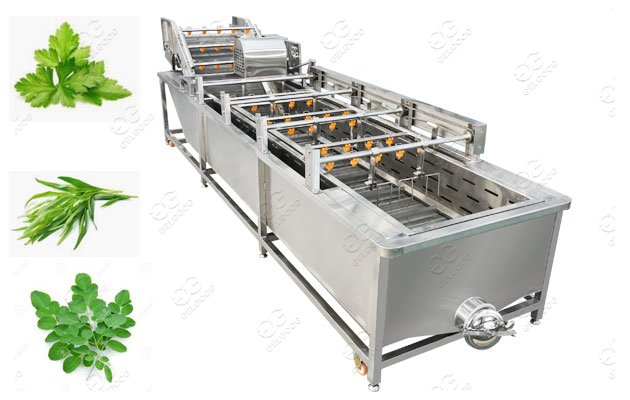 For safety and hygiene, moringa leaves need to be washed. Our moringa leaf washing machine can help you to clean the moringa leaves in large quantities.
Moringa leaf washing machine features:
1. Fully automatic, easy to operate, less labor, save labor costs.
2. Water circulation filter system: it is both water-saving and environmentally friendly, which can save 80% of cleaning water;
3. Large capacity, high efficiency and good quality. The output can be customized according to customer needs.
4: The moringa leaf washer machine effect is good: under the double action of air bubbles and spraying, the cleaning materials are cleaned in all directions and at multiple angles. Ensure that the materials are clean.
5: Convenient cleaning and maintenance of leaf washing machine: The leaf washing machine has an oversized sewage valve, and the discharge is efficient.
6: Wide range of application: suitable for cleaning and processing of various leafs,fruits and vegetables, and can also be customized according to user needs;
If you need moringa leaf processing equipment, please feel free to contact us. We will reply your question as soon as possible. Regarding the installation of the moringa processing machine, we will provide an engineer to the buyer's work site to help install, guide and debug the machine until the,moriga leaf process line runs smoothly. Also responsible for training workers.


Technical Data
Moringa Leaf Washing Machine
Power(KW)
Size(MM)
Weight(KG)
Mesh width(MM)
GGXQ3000
2.2/0.75/1.5
3100*1400*1500
500
600
GGXQ4000
4/1.1/1.5
4100*1400*1500
700
800
GGXQ5000
5.5/1.5/2.2
5100*1400*1500
900
800
GGXQ6000
5.5/1.5/2.2
6100*1400*1500
1000
800
GGXQ7000
5.5/1.5/3
7100*1400*1500
1200
800
GGXQ8000
5.5/1.5/3
8100*1400*1500
1350
800
The above three powers are: air bubble, conveyor motor mesh belt and water pump.
Customers Who Viewed The Machine Also Viewed