Features
Parsnip is a carrot-like species with an ivory color. Parsnips are loved by everyone. The parsnip can be washing, polishing , grading and packing and other process. Parsnip can also be sliced, cut into strips, etc.,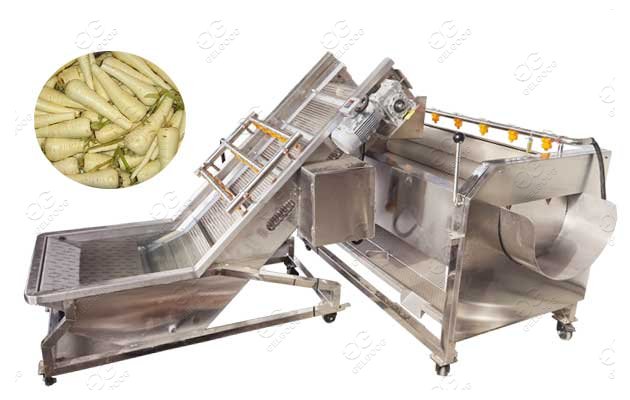 Our parsnip washing line has a complete washing system design and manufacturing. The combination of multiple washing equipment such as brush type cleaning machine and bubble type washing machine is used to clean the parsnips and achieve the polishing effect. And our carrot washing machine comes with automatic sludge and scum removal function.
All parsnip washing system are made of heavy-duty construction
The parsnips washer is made of stainless steel, the cleaning machine is durable and the maintenance cost is very low. In our bubble type washer machine, we have a fresh water flushing device at the water outlet, which allows the material to be cleaned again to achieve more flushing effects.
In addition to cleaning and polishing equipment, our parsnips washing system also includes grading equipment, packaging equipment, etc. According to customer needs to provide nuclear suitable parsnip cleaning solutions.
There are two types of carrot cleaning machines for customers to choose from. It can be classified according to the size of carrots or according to the weight of parsnips. Both can be classified. You can tell your needs when you contact, so that we can provide you with a parsnip grading machine.
Tell us the style of packaging you want, and we can configure suitable packaging equipment.
Whether you need to clean and pack parsnips for sale, cut and fry or dry parsnips, or grind or slice fresh parsnips, eat them raw and add them to salads. We can all provide you with a suitable solution.

Technical Data
| | | | | | |
| --- | --- | --- | --- | --- | --- |
| Paisnip Washing Machine | Power(KW) | Size(mm) | Capacity(KG/H) | Weight(KG) | Roller Size(mm) |
| GGXM800 | 1.1 | 1600*850*800 | 400 | 220 | 800 |
| GGXM1000 | 1.5 | 1800*850*800 | 600 | 260 | 1000 |
| GGXM1200 | 1.5 | 2000*850*800 | 800 | 280 | 1200 |
| GGXM1500 | 2.2 | 2300*850*800 | 1000 | 320 | 1500 |
| GGXM2000 | 3 | 2800*850*800 | 1500 | 420 | 2000 |
| GGXM2600 | 4.37 | 3100*850*1450 | 2000 | 600 | 2600 |
Customers Who Viewed The Machine Also Viewed