Features
The
pomegranate washing machine
cleans the peeled pomegranate seeds. The peeled pomegranate seeds have a white pomegranate rind. If they are not cleaned, it will affect the taste of the pomegranate juice, or it will have a better impact on the sale and quick freezing of the pomegranate seeds during the subsequent processing. The pomegranate cleaning machine plays a very important role in the subsequent processing of pomegranates.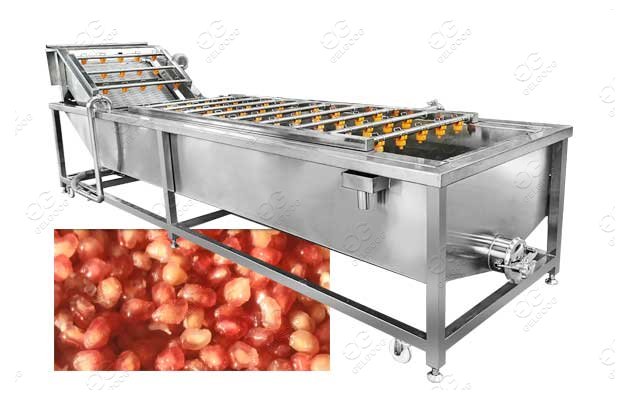 In response to the problem of
pomegranate seed washing
, our technicians have developed a pomegranate washing machine suitable for cleaning pomegranate seeds based on the characteristics of pomegranate.
When the
pomegranate washing machine
is working, the pomegranate seeds are tumbling up and down with bubbles in the water, imitating repeated scrubbing by hand. The skin and flesh of the pomegranate seeds will be flushed into the overflow trough by the screen. The cleaned pomegranate seeds are transported out by the mesh belt and then washed under high pressure after passing through the spray device. When the material is discharged, the surface moisture can be blown by a fan to enter the next process for further processing. Such as pomegranate quick-freezing equipment or pomegranate juicer, etc.
Pomegranate cleaning machine
cleaning process and cleaning principle, automatic and regular washing and disinfection, multi-angle, thorough cleaning of vegetables and fruits;
The inner barrel adopts a unique technical structure, which can strongly drive the movement of water. With the effect of bubble cleaning, it can effectively protect the surface of the pomegranate seeds, wash it clean and protect the skin of the pomegranate seeds.
For pomegranate processing machine, pomegranate skin peeling and pomegranate juice making machine, pomegranate seed quick-freezing equipment are all available for everyone to choose. Contact us for pomegranate processing machine.
Technical Data
| | | | | |
| --- | --- | --- | --- | --- |
| Pomegranate Washing Machine | Power(KW) | Size(MM) | Weight(KG) | Mesh width(MM) |
| GGXQ3000 | 2.2/0.75/1.5 | 3100*1400*1500 | 500 | 600 |
| GGXQ4000 | 4/1.1/1.5 | 4100*1400*1500 | 700 | 800 |
| GGXQ5000 | 5.5/1.5/2.2 | 5100*1400*1500 | 900 | 800 |
| GGXQ6000 | 5.5/1.5/2.2 | 6100*1400*1500 | 1000 | 800 |
| GGXQ7000 | 5.5/1.5/3 | 7100*1400*1500 | 1200 | 800 |
| GGXQ8000 | 5.5/1.5/3 | 8100*1400*1500 | 1350 | 800 |
Customers Who Viewed The Machine Also Viewed