Features
The beetroot washing machine is suitable for use in many places, such as farms, beetroot processing factory, etc. The root washing machine is clean and hygienic, and the hair roller is not easy to deform. It is equipped with soft and hard hair brushes, soft hair cleaning, and hard hair peeling. They are all made of high-quality nylon rope. They are durable and have high cleaning, energy saving, Water-saving, stable and reliable equipment, etc., are ideal equipment for the root vegetable processing industry.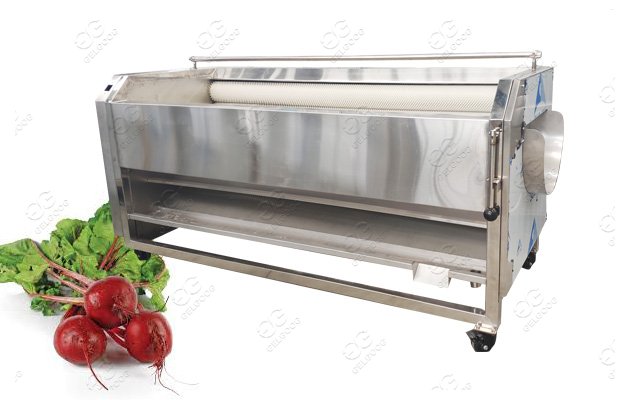 Longer service life of root washing machine.
The machine is composed of a frame, a brush roller, a reducer, a sprocket, a chain, and a water pipe assembly. The main parts are made of stainless steel to ensure long-term stainless steel. Greatly improve the service life of beetroot washing machine.
Good Cleaning Effect:
Compared with general root crops, sugar beet is a large and hard crop. Our sugar beet washing machine equipment is carefully designed and constructed to ensure excellent performance in the most demanding beet processing conditions.
High-yield:
The sugar beet cleaning machine can clean and remove stones from crops with a higher quick freezing, while increasing the daily output. It can be manufactured in various standard sizes according to your production requirements of 30 to 60 tons per hour.

This is our root washing machine with soft brush test working video for sweet potato. If you are interest, welcome see it.
Technical Data
| | | | | | |
| --- | --- | --- | --- | --- | --- |
| Brush Type Root Washing Machine | Power(KW) | Size(mm) | Capacity(KG/H) | Weight(KG) | Roller Size(mm) |
| GGXM800 | 1.1 | 1600*850*800 | 400 | 220 | 800 |
| GGXM1000 | 1.5 | 1800*850*800 | 600 | 260 | 1000 |
| GGXM1200 | 1.5 | 2000*850*800 | 800 | 280 | 1200 |
| GGXM1500 | 2.2 | 2300*850*800 | 1000 | 320 | 1500 |
| GGXM2000 | 3 | 2800*850*800 | 1500 | 420 | 2000 |
| GGXM2600 | 4.37 | 3100*850*1450 | 2000 | 600 | 2600 |
Customers Who Viewed The Machine Also Viewed