Features
Our leek washing machine is used to clean the dirt on the surface of green onions. The root soil is washed by high-pressure spray to meet the cleaning requirements.
This green onion cleaning machine can also clean chinese yam, ginseng, leeks, etc., and it can be used in multiple functions.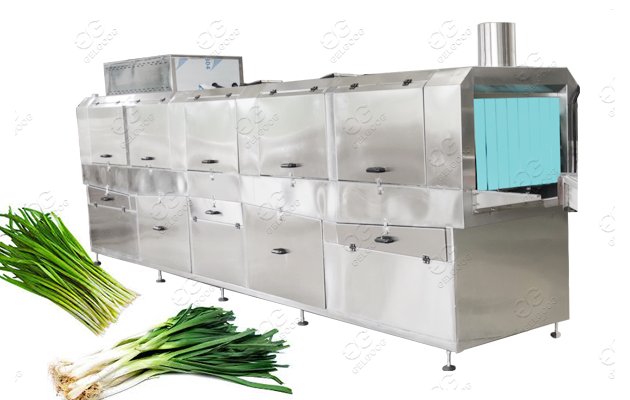 Our high-pressure spring onion washing machine can solve the difficult problems of cleaning green onions, celery, garlic, etc. on the market. Our high-pressure vegetable washing machine can clean the vegetables while protecting the shape and order of vegetables. The leek washed in this way are arranged neatly to facilitate subsequent processing. It can effectively protect the appearance of vegetables. It is a good choice for cleaning green onions.
The scallion high-pressure washer is made of stainless steel SUS304 except for standard parts such as motors and bearings, which fully meets the requirements of export food hygiene. The appearance of the machine is simple, generous and beautiful, easy to clean, and has the characteristics of long service life and low maintenance rate.
The scallion cleaning cabinet is equipped with an overflow device, and the dirt floats through bubbling, and can be discharged through the overflow through the float removal device. Equipped with a quick-release impurity filter, which can be removed at any time to remove floating impurities. The upper part of the cleaning box of the green onion cleaning equipment is equipped with 8 sets of high-pressure water spray devices. The water source is tap water. The feed end of the Four Seasons Onion Washing Machine is equipped with a forward push device with an adjustable angle to make the material form convection in the tank, which can clean the product more thoroughly and speed up the product operation.
In addition to green onion cleaning equipment, we also have onion root cutting and chopping equipment. Able to provide the entire processing production line.

Customers Who Viewed The Machine Also Viewed