Introduction of the
vegetable cutting machine:
1.The cutting range for slice:1-10mm ; shredded corms vegetable: 2 -10mm; cube: 8mm, 10mm, 12mm, 15mm, 20mm.
2.Multi-usage,high output,cutter disc replacement is convenient,simple operation,convenient cleaning,the multifunctional vegetable cutter is suitable for food processing plants,food industry,the dining hall,food and beverage distribution center.
3.The vegetable cutter can usually match stem vegetable brush type washing machine,peeling machine and other related equipments!
4.The machine is used to cut root vegetables such as potatoes, sweet potatoes, cucumbers, bamboo shoot, onion, eggplant slices, suitable for health food and beverage personnel or food processing plants
5.The vegetable cutting machine stops working automatically when the door is opened due to the safety device. There is also an emergency switch to stop the machine for improper operations.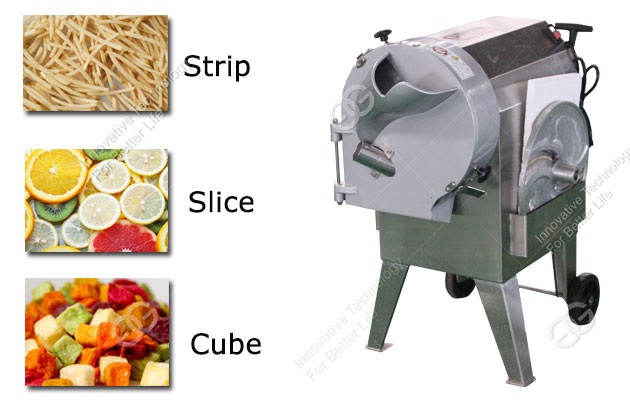 Advantage of the
vegetable cutting machine for sale
:
1.It could cut leafy vegetables, such as scallion, garlic, leek, celery, Chinese cabbage, spinach, lettuce, etc.
2.It could cut root vegetables like carrot, onion, bamboo shoots, eggplant into strip, slice or cube shape by changing the blades.
3.The speed of blades and belt can be adjusted by inverter accurately.
4.The cutting size could be changed according to your requirements.
5.A slice blade, cube blade, strip blade and an ox-horn blade are equipped with the machine.
We also have other type fruit vegetable cutting machine and fruit vegetable washing machine,
juice crushing and juicing machine
for your choice.We can provide you the suitable solution according your detail demands.Any problem ,you can email me freely or leave your inquiry on our website.We will feedback soon.
If you need vegetable cutting machine for your food process factory,restaurant,hotel,school ect, you can contact us freely, we can solve your problem and provide you suitable solution. Email: wendy@machinehall.com
Vegetable cutting machine working video: