200-300kg/h Deep Fryer Machine Function:
High-tech and features of automatic deep fryer
1. The machine adopts intelligent digital display thermostat, which is convenient to control.
2. The equipment adopts the most advanced oil-water mixture fried technology in the world. The oil in the above level to fry the food, the water in the below level acts the function of cleaning oil.
3. The fried food has nice color, good smell and taste, with higher quality and can prolong the shelf life.
4. This frying way can save oil greatly than the traditional machine, can reduce waste greatly.
5. The Deep Fryer Machine is widely used in restaurant, hotels, noshery, fried chicken shop, schools, fried food business and so on.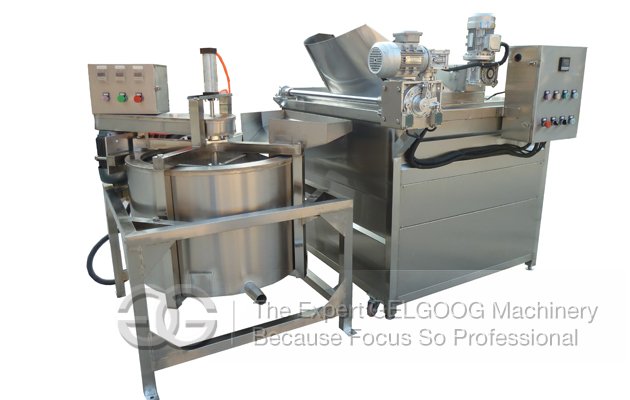 Advantage:
Automatic Deep Frying Machine consists of automatic belt conveying system, elevating system, oil adding system, oil temperature controlling system, fryer can use electricity,gas, diesel as power source. Fryer can achieve industrial production, has features of easy operation, stable performance and long time working, labor saving, easy maintenance.
Application of automatic deep fryer
This machine can be used in Fried dried fruit nuts, puffed food, meat product,etc, such as rice crisp, Sweet sticky rice strips, peanut, beans, and fried cake with sugar, squid, Fried chicken, and so on, The most ideal equipment to produce fried food.
A.main body machine adopts stainless steel 304
B.Machine adopts the revolution and rotation of synchronous model of agitation,to ensure food being oil fried totally ,avoid food adhesion ,
C.Automatic feeding discharging system,reduce labor intensity of the workers,
D.Water mixing oil technology for easy maintenance and clearance