Small Manual Model Water-Oil Mix Fryer Machine Introduction:
1.The temperate of oil and water can be both fully controlled by yourself, which can save 40% electricity and 50% oil, very energy-saving and cost-effective.
2.Using the technology of the mixed oil and water,has the advantage of energy conservation,environmental,healthier
3.The synchronous of revolution and rotation mixing way,ensures the uniformity of the food Fried,in case of food stick together,because of extrusion,mixing system makes the frequency conversion.
4. Made of high quality stainless steel with exquisite technique
5.Adopts intelligent digital display temperature controlling device with convenient and practical function.
6.Adopts oil water integrate technology, residua filtered automatically so avoid oil acid value incensement and black oil, reduce lampblack greatly.
7.Adopts divisional temperature controlling system so as to separate the bad oil effectively. Flavor will not mix even fry many kinds of different food, it can be used for many purposes.
8.Creepage protection device equipped, keep operation under safety.
9.This machine is whole the stainless steel 304;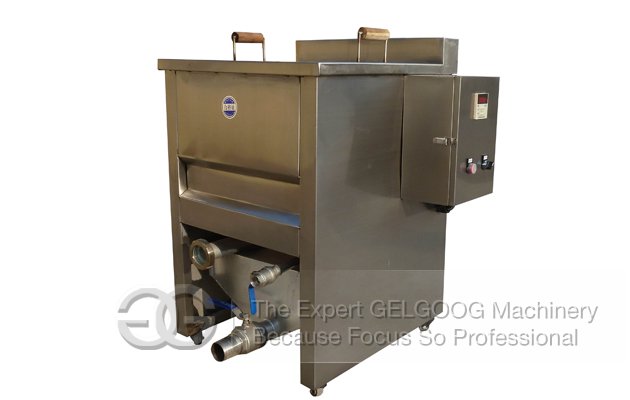 Advantages:
1.Adopts the newest and the most advanced technology in china
2.Low temperature frying
3.Water temperature and oil temperature is automatically control .
4.Adopts principle"water-oil separator",the oil is above,the water is below which can keep the oil clean and continuous to use
5.Full stainless steel made ,Can fry all kinds of foods without the Taint of odor
6.No oil smoke,this can keep the health of the working people.
7.Electricity saving is 40%, oil saving is 50%
8.Our frying machine is a kind of smokeless and multifunctional frying equipment. It adopts advanced international water-oil mixture frying technology to ensure quality and taste of the products, and has solved the disadvantages of traditional frying equipment.