Tomato paste also called ketchup, is a tomato seasoning obtained by pulverizing, beating, concentrating, canning, and sterilizing mature red tomatoes.
Tomato paste production line turkey technical advantages:
The automatic tomato paste production line we provide is mainly fresh and mature tomatoes that are washed, lifted, sorted, crushed and beaten, concentrated and sterilized, and then filled into aseptic ketchup products after aseptic filling.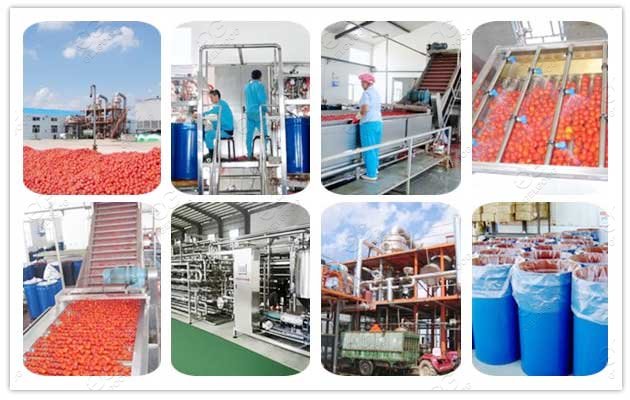 The tomato sauce production line mainly includes five parts: fresh tomato receiving, pre-washing and sorting parts; extraction section; concentration section; pasteurization or sterilization section; aseptic filling section.
Tomato ketchup production line process characteristics :
1:Ketchup has a solid content of more than 4.0% before it can be used for concentration processing. Tomato maturity must be over 90%.
2. Broken is heated quickly and evenly during pre-cooking, and seed removal is to prevent the seeds from being broken during beating. If mixed into the pulp, it will affect the flavor, texture and taste of the product.
3. Pre-cook the tomato puree which has been crushed and seeded and quickly heated to 85 ℃ ~ 90 ℃. In this way, the activities of pectin lipase and galacturonase can be inhibited, the price of pectin substances can be reduced and denatured, and the consistency and spreadability of the sauce can be reduced.
4. The concentrated sauce must be heated to 90 ° C to 95 ° C and then canned. The containers are tinplate cans, toothpaste-shaped plastic bags, and glass bottles. We can also provide suitable ketchup packaging machines according to customer needs.