The
carrot potato washing and peeling machine
is widely used in washing and peeling round oval fruits and vegetables such as carrots, ginger, sweet potato kiwi fruit. The fruit and vegetable wash peeling machine is mainly composed of motor,transmission,8-15 hairbrushes. The machine has a beautiful shape and convenient operation. The brush is made of high quality nylon which is durable and good wearable. The fruit and vegetable wash peeling machine is an essential equipment in fruit and vegetable processing factory. Labor saving and low consumption, high output are the advantage.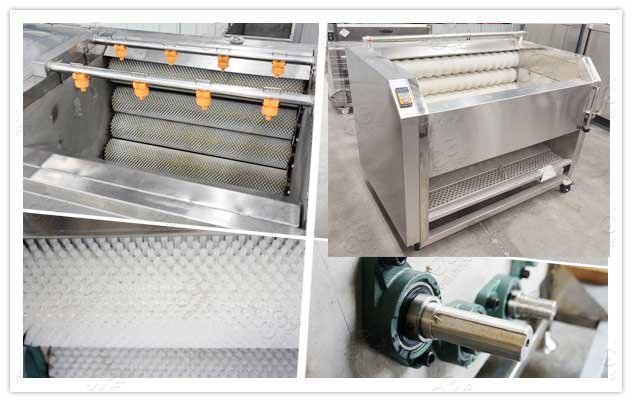 Potato Washing And Peeling Machine Advantage:
The potato washing machine is developed according to the market demand for the products by our factory. Series brush cleaning machine can be continuous discharging and intermittent discharging, and advanced designed, easy operated, and also with low energy consumption, high efficiency, sanitation, safety, and high efficiency, and it's the ideal equipment for the vegetable processing industry.The production of the peel-cleaning machine adopts pure nylon brush roller, the long-term use without hair slipping, and more durable, ensuring the health of fruits and vegetables. The main component of the cleaning and peeling machine is stainless steel, in order to ensure the long-term work, without stainless corrosion, non-toxic, harmless and other characteristics, according to the standard of food processing machinery health requirements.
Our potato washing and peeling machien also have drain pans and strainers. It can prevent water from splashing, prevent dirt and waste from clogging the sewer, and water can be collected and reused.

This is our root potato washing and peeling machien wokring video show. welcome see it.