Features
Pepper washing processing line
:
In addition to electrical equipment, bearings and other standard parts are made of stainless steel SUS304 / 2B material, in full compliance with the export of food hygiene requirements. The device is provided with bubble generating means, so that the material was a rollover state to remove surface pesticide product efficacy, while adding an appropriate amount of agent to sterilize a solid color. Floating debris can overflow from the overflow tank, sediment discharge from the outfall, to achieve the goal of cleaning. Wash clean with a high energy, water, equipment, stable and reliable.
The conveyor section SUS304 stainless steel mesh belt, smooth operation, long life and other characteristics, in line with food hygiene requirements.
Simple operation, easy maintenance, easy connection.
The machine uses stainless steel sink main body made of 2mm thick 304 stainless steel.
Related machine:
peper cutting machine
,
pepper paste making machin
e
,
pepper powder machine.
Leave message for quotation.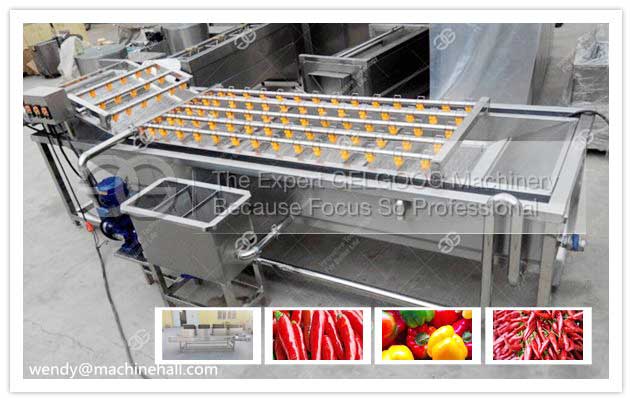 Technical Data
Date wash production line(2000kg/h)
Machine name
power
size
Automatic Vegetable and Fruit Washing Machine
5.1kw/380v/50Hz
5000*1400*1400

Capacity:2000kg/h

Brush Roller Cleaning Machine
2.6kw/380v/50Hz
3500*1100*1100
Capacity:2000kg/h

Air Cooling Drying Machine
3.1kw/380v/50Hz
4000*1100*1000
Capacity:2000kg/h

3.Hand Picking Machine
0.75kw/380v/50Hz
3000*800*900

Sorting Machine
1.5kw/380v/50Hz
2600*1000*1000