How Are Almonds Hulled And Keep Them Whole ?
Do you know how are almonds hulled and keep them whole?
We all know that almonds have good edible value and medicinal value. Almonds can be used to make a lot of delicious foods. It can also be used as medicine. Almonds can relieve cough and relieve asthma, and it can treat lung diseases, cough and other diseases. Sweet almonds and dried almonds that are eaten daily are moisturized and have a certain lung function. But the essential step in processing almonds is to hull the shell of almonds. So do you know
how are almonds hulled
? Today I would like to tell you how are almonds hulled and keep them whole.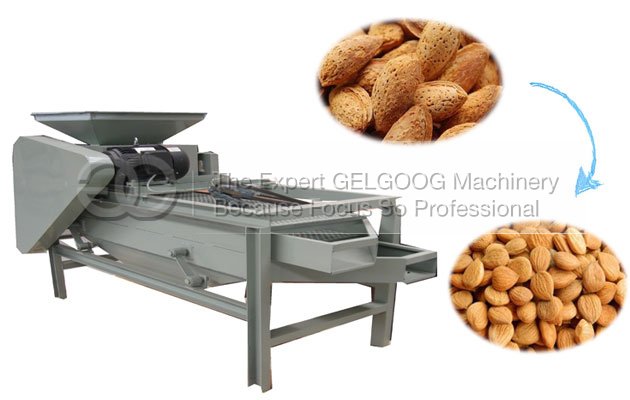 The
almond nut hulling machine
is specially designed for hulling the hard shell of almonds,which can keep almonds whole after hulling.
Next I would like to tell you
how does the almond hulling machine work
.
First place the almonds in the hopper. Then the almonds will roll into the drum first. The almond shell and the kernel are hulled off due to the torsional force between the particle board and the strip-shaped concave plate. The shelled almonds and shells simultaneously fall through the concave plate holes. In the air passage, most of the almond shells are blown out of the machine and fall together with a small portion of the small fruit that has not been stripped. After screening, the gravity separation screen is screened through the surface of the separation screen, and then enters the bag. The small fruit that has not been peeled off from the sieve surface descends from the surface of the sieve, enters the blower through the outlet. Then, all the peeling can be achieved by using the air conveyor as the drum, hulling the casing twice, and then selecting the screening gravity separation screen.
The hard shell can be removed from the different sized nuts by adjusting the gas between the husking rolls.
Single stage sheller is often used in conjunction with core shell separators.
And know you have known
how are almonds hulled and keep them whole
. Our company can provide the most high quality and favorable price almond hulling machine for customers. Our almond hulling machine adopts the latest and the most advanced technology,which is the most ideal shelling machine for almond food processing factories. And we also have the most intimate staff to provide you with advice 24 hours a day. If you want to know more about this machine, you can contact us!