Features
Automatic date pitting machine
take a high degree of automation that we only need put date into the feed hopper to complete the nuclear meat separation effect.Sustainable uninterrupted Work, completely solve the difficulties of low date pitting efficiency and labor-consuming, time-consuming.
The structure of date pitting machine is made of 304 stainless steel ,thick-walled square tube and channel welding composition.The date pitting equipment in the start-up operation to enhance stability, all parts of the use of bolt fastening assembly, the equipment in the operation and maintenance more convenient Fast.
The automatic date pitting machine use high-quality 304 stainless steel to meet the health standards of food processing equipment in full compliance. The use of imported polyurethane conveyor belt material, anti-wear, tensile, tear resistance, longer service life.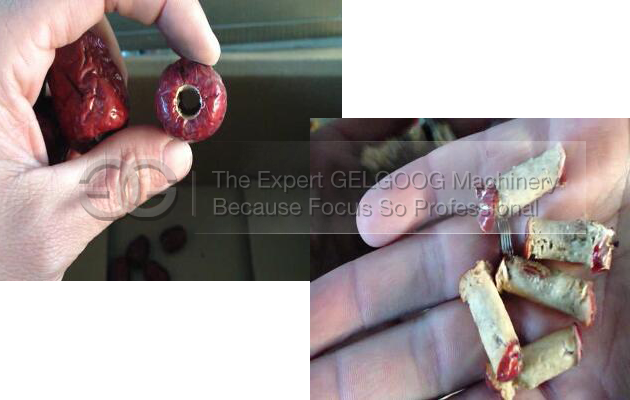 Technical Data
Model
pitting rate
date size
(mm)
capacity
(pcs/h)
power
(kw)
voltage
(v)
machine size
(mm)
weight
(kg)
GG-190-6
99.5%
∅32—∅38
28800
1.5
380
2300×1280×1220
610
GG-190-7
99.5%
∅24—∅32
33600
1.5
380
2300×1280×1220
610
GG-190-14
99.5%
∅22—∅32
67200
1.5
380
2300×1280×1220
610
GG-190-26
99.5%
∅12—∅24
124800
1.5
380
2300×1280×1220
610
Customers Who Viewed The Machine Also Viewed