Features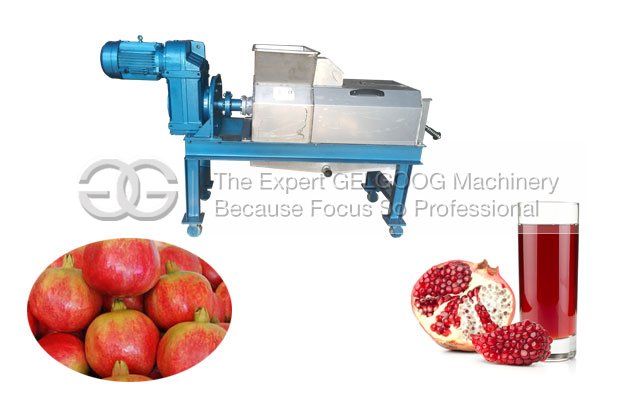 The Automatic Commercial
Pomegranate Juice Making Machine
is used for process pomegranate into pomegranate juice.For pomegranate process machine,we also have pomegranate washing machine, sorting machine,pomegranate peeling machine ect,for you choice.
The
pomegranate juice extractor machine
also suitable for manyt other raw material such as Chinese medicine residue, grape wine, corn straw, 100% fiber, vegetable market waste, garbage, medical waste, fruit peel, water hyacinth, banana stem, Ginkgo biloba, Codonopsis, sawdust, sawdust and other scraps, pomegranate, celery, cabbage, pepper, pineapple, sea buckthorn fruit etc.If you need pomegrante juice extractor machine,contact us freely. Email:wendy@machinehall.com
The
pomegrante juice extractor machinery
advantages:
1. Touch food parts are made of stainless steel.
2. Double screws design, high juice extracting rate.
3. Low temperature during juice extracting process keep original juice taste.
4. Easy operation and low energy consumption.
Pomegranate washing machine introduction:
The pomegranate cleaning machine is named bubble type fruit washing machine, is equipped with foam and ozone generator to thoroughly wash fruits and vegetables.
It is a vegetable and fruit shredder with a stainless steel texture. It has a high pressure fan and is then hit by high pressure water to soak and wash vegetables and desalinate.
the washing cleaning machine is suitable for all kinds of vegetables such as strawberries, apples and pears, and can also make seawater desalination and clean pesticide residues.Flush with high pressure water and foam, the dust on the surface of the vegetables can be thoroughly cleaned.
The fruit and vegetables are the first washing machine spray pipe and nozzle, strong cleaning the most dirt.
After being transported to the cleaning tank, they will be thoroughly washed by the blisters.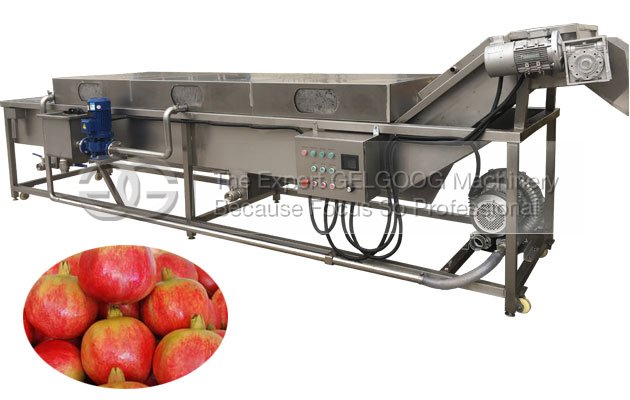 Pomegranate Sorting Machine Introduction:
The sorting machine can classify fruits and vegetables according to different sizes.The sorter is made of stainless steel.Classification levels can be customized.
The machine is suitable for soft nylon brush, rotate on its own axis, so it will not cause damage to the fruit.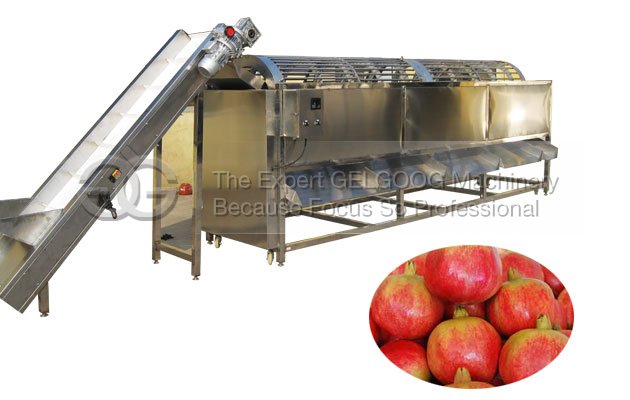 This is
pomegranate juice making machine
working video:we also have
pomegranate peeling machine
for your choice.Any problem you can contact me freely or leave message on our website freely.
Technical Data
Capacity

Size

Machine weight

Power

0.5T/h

1850x500x1200

400kg

4Kw

1.5T/h

2565x480x905

800kg

3T/h

3200x560x1120

1200kg
Customers Who Viewed The Machine Also Viewed